Strongest Man in Finland 2012: 105-kg Class Added
With a quarter century of success in the books, the Strongest Man in Finland is poised for more good things as a lightweight (under 105-kg class) is being added to the 2012 contest.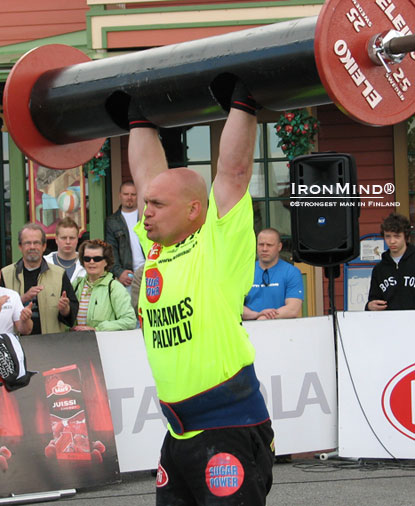 105-kg Strongman World Champion Janne Hartikainen in the log lift in the 2009 Finland´s Strongest Man. IronMind® | Photo courtesy of Strongest Man in Finland Association.


Strongest Man in Finland: Lightweight Class Added for 2012
by Jyrki Rantanen

Finland has been well known on it´s super talented lightweight (under 105 kg) strongman competitors over the years, like multi-time champion Janne Hartikainen.

This has been noted well in the association, which has proudly presented the men's competition for 25 years and also have an ongoing history with women's class since year 2000.

2012 Finland´s Strongest happening will have three classes: women, men's open and men's under 105 kg. It might be the first time in history, when the under 105-kg nationals are shown on TV in any country and we are starting it directly with the national TV channel YLE. The competition is scheduled to be held between the end of May and the middle of June. Competition venue and events along with the exact competition dates will be published no later than the end of January 2012.

Finland´s Strongest will be a 2-day event with a qualification and finals for each classes and just for information, the lightweights willweight-in the night before the competition and also there will be a chance for re-visit the scale the next day.

There will be 6-8 events for each class and again maybe for the first time in history the lightweights will be competing with the same event weights as the open class competitors. This will help the spectators to see the difference between the classes (if there´s any :) and also it helps the organizers to manage the competition more smoothly since they are waiting quite a big number of participants.
The qualification events (2-3) will be heavy enough to make the difference, but light enough not to stop the newcomers from joining the party also. For the finals, the events are going to be even tougher since the ones competing will definitely be the strongest people in our nation.

The Strongest Man in Finland association is also negotiating with several parties all around the world for the possibility of offering international opportunities for the winners. In the open class this has already led to success, where the reigning champion Jarno Jokinen will be taking part to the Amateur World Championchips 2012 as well as starting his international strongman career this August in Riga, Latvia.

###

The IronMind Forum: discuss this article, talk strength, get help with your training.

You can also follow IronMind on Twitter.