"StrongFit will stage its second major event with motor sport at this weekend's Australian Moto GP at Phillip Island in Australia in the form of a new event, 'The StrongFit Hercules,'" Bill Lyndon told IronMind today.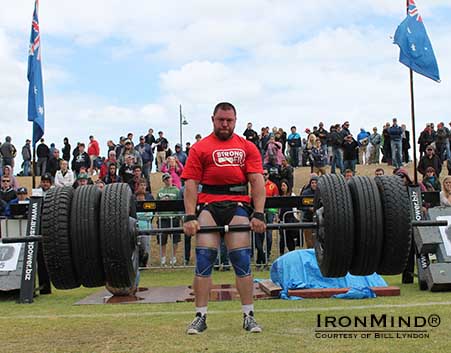 Ben Simpson has been called "a rising star in Australian strongman."  IronMind® | Photo courtesy of Bill Lyndon.


"This event will have the strongest men from Australia and New Zealand battle it out for a spot at Giants Live Melbourne in 2014 along with invitations to the StrongFit World Championships, set to be staged at the Australian F1 in March 2014, the week after the Giants Live event.

"The long term plans for the Hercules will be to develop it into a world record breakers for strongman where any athlete can come to attempt to break a World Record with selection via the StrongFit Grading system," said Lyndon.

Athletes
Sam Punnell
Warrick Brant.
Joel Mc Leod
Mike Jones
Ben Simpson
Alistair Ronaldson
Liam Okninski
Sean Poole
Stuart Coulter

Events
Car Walk
Axel Press
Deadlift for Reps
Farmers Walk
Keg Race.
Motor Bike Toss
Viking Axe Hold.
Eureka Stones

                                                                 
                                                                                      #

Want to talk strength?  Join the IronMind Forum.
 
You can also follow IronMind on Twitter and on Facebook.