Steiner is the Big Story in the Supers
Beijing - He hadn't competed in three years and had only just recently received his German citizenship, but if you saw him lift tonight, you would have been impressed with Mattihias Steiner (Germany), who ended the night with a 193-kg snatch, a 230-kg clean and jerk, and the gold medal in the super heavyweight class at the Olympic test event in weightlifting.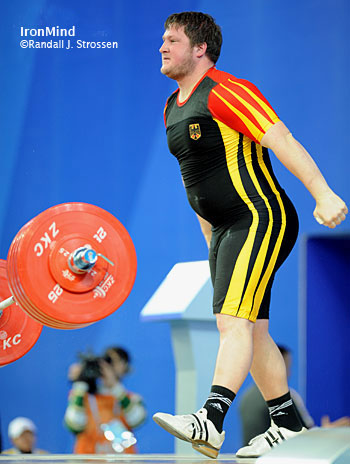 Take a bow: Mattias Steiner knocks off his third attempt 230-kg clean and jerk in fine style at the Good Luck Beijing International Weightlifitng Invitational Tournament tonight. IronMind® | Randall J. Strossen photo.


The jury was hardly inactive in tonight's session, granting Casey Burgener (USA) an extra attempt when the announcer stopped him from lifting as he was gripping the bar on his second attempt (220 kg) in the clean and jerk; and then they overruled the referees and turned down Steiner's second clean and jerk (225 kg). Steiner took this reversal in stride, and he moved to 230 kg on his third attempt, for a good lift.

Grzegorz Kleszcz (Poland) got the silver medal, with a 395-kg total, and Gao Le got the bronze medal, with a 391-kg total.

"It was his first competition in three years," German coach Frank Mantek told IronMind®, obviously proud of Steiner's performance tonight, and the feeling is that we will be seeing bigger things from him as the year unfolds.

Earlier today, Huang Huan (China) won the women's +75-kg category via 119/150 in a six-for-six performance. And if you think that's an impressive performance for a 20 year old, consider that Li Rongyan (China), who was fifth, with 102/127, turned 17 about two weeks ago. Aikaterini Roditi (Greece) got the silver medal, with a 254-kg total, and her teammate Vasiliki Kasapi got the bronze medal, with a 250-kg total.