Stefan Dumitrica Dominates IHGF Lightweight World Highland Games Championships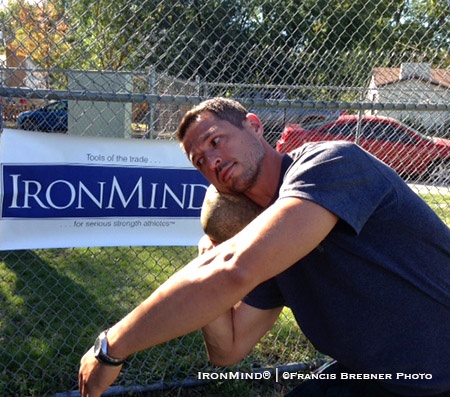 Stefan Dumitrica (Romania) turned in a commanding performance to win the 2016 IHGF/SAAA Lightweight World Highland Games Championships.
2016 IHGF/SAAA Lightweight World Highland Games Championships 

by Francis Brebner
International Highland Games Federation (IHGF)
 
The 2016 IHGF Lightweight World Championships (under 200-lb. class), held in Mountain Home, Idaho (near Boise) crowned a new champion, Stefan Dumitrica, of Romania. The field of 13 lightweight athletes, the best international representation at the IHGF Lightweight World Championships to date, included USA's Mike Beech, Garrett Middleton, Scott Farr, Mark Howe, Luke Lomsdalen, and Nigel Anselmi; Romania's Stefan Dumitrica; Scotland's Harry Hancock; Austria's David  Kirchmayr; Germany's Enrico Riess and Bruno Ohngemach; Canada's Wilson Burnett; and Switzerland's Simeon Brugger.
 
The 24-lb. Braemar stone was a heated battle, with less than one foot separating the top three athletes: Dumitrica clinched the first win with a putt of 35' 7-3/4", Farr followed closely at 34' 8-1/2", and Anselmi was third with a gallant putt of 34' 2-1/2".
 
In the 18-lb. open stone, Dumitrica let fly a series of superior putts to win with a distance of 43' 11". Second place was a close tussle, with Anselmi edging out Beech at 41' 3/4" to Beech's third-place 40' 1/4".
 
The heavy weight for distance was a slug fest, with Beech finally pulling off the win in the final round with a clutch throw of 45' 4-1/2" for his first victory. Dumitrica looked content with second place and a throw of 43' 7-1/4".  Anselmi took third at 42' 9-3/4".
 
The skirmish continued in 28-lb. weight for distance, with Middleton jumping from fourth place to first in the final round with a distance of 64' 7". Second was Dumitrica with 63' 6" and inches behind was Beech in third with 63' 4-1/2".
 
Dumitrica, after four events and mistakes, was in the driver's seat with 6 points, with nearest rivals Beech and Anselmi at 12 points.
In the 16-lb. hammer, it was another ding-dong battle with only inches separating the top two and with less than 9" separating the next three places. Middleton snatched the win over Beech in the last round with 107' 5" to Beech's second at 107' 4-1/2". Third was Lomsdalen at 103' 7-1/2".
 
The athletes went all out once again in the 22-lb. hammer, which ended with just about a foot separating the top three: Beech placed first with 86' 7", Middleton second at 86' 4-1/4", and Lomsdalen third at 85' 6".
 
After six events, Dumitrica was leading by only 1/2 point over Beech. It was all down to who wanted it most and would not make any mistakes.
 
In the 42-lb. weight-over-bar, Farr, Riess, and Dumitrica cleared 17', with both Dumitrica and Riess clearing 17' 5" to set personal bests—and with Riess under 190 lb., the throw set a new world record in that class. Only Riess cleared the bar at 18', and this for another world record. It was a disappointment for Beech as he need to stay close to Dumitrica to stand any chance for the overall win, but he had to settle for a five-way tie at 15'.
 
Only half the group turned the caber, at 16' 9" and 93 lb. and not much of a taper. Kirchmayr nailed a 12:00, with second-place Dumitrica doing 12:30, and Middleton doing 12:45.
  
Final placings:


| | | |
| --- | --- | --- |
| 1. | Stefan Dumitrica | 19.0 |
| 2. | Mike Beech | 33.5 |
| 3. | Garrett Middleton | 35.0 |
| 4. | Nigel Anselmi  | 38.5 |
| 5. | David Kirchmayr | 48.0 |
| 6. | Scott Farr  | 52.5 |
| 7. | Luke Lomsdalen | 53.0 |
| 8. | Wilson Burnett | 54.0 |
| 9. | Bruno  Ohngemach | 60.0 |
| 10. | Mark Howe | 74.0 |
| 11. | Enrico Reiss | 75.0 |
| 12. | Simeon Brügger | 81.0 |
| 13. | Harry Hancock  | 104.0 |
For Dumitrica, it was a well-earned Lightweight World Championships victory; he placed consistently throughout the competition, vital for winning the title.
 
On behalf of the IHGF, acknowledgement goes to Polly Mae Saulls and Will Griffith for all their hard work and dedication to making theses IHGF/SAAA Lightweight World Championships the best to date. No stone was left unturned in Saulls's preparations in making these games the success they were and it is just amazing what she has achieved in three years in building Mountain Home into a major games on the national circuit. A total of 84 athletes competed between the A, B and C classes, Men's Lightweight, Women's Open and Lightweights, and Women's and Men's Master classes as well as the Girls' & Boys' Junior classes. Eight strength athletes competed in a strongman competition, bringing the total number of athletes to just over 90. Special mention must be made to the mayor of Mountain Home, Rich Sykes, who not only got behind the promotion of the games, but also took part in the Master's class and placed third overall.
                                       ###



You can also follow IronMind on Twitter and on Facebook.                        



Want to talk grip, strongman, weightlifting . . . everything strength? Visit the IronMind Forum.