Starting Field for IceMan IV
Some of the top names in strongman will be competing in IceMan IV, an MHP Strongman Champion's League (SCL) extravaganza set in the winter wonderland of Finland's Ruka, the international ski jump area, on March 16.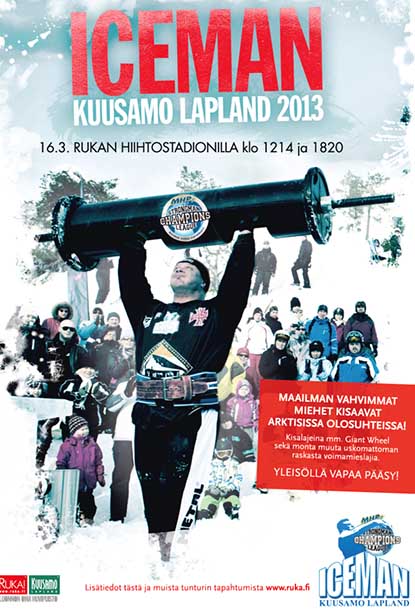 IceMan IV, with a setting as rugged as strongman itself, returns to Finland's Lapland on March 16. IronMind® | Artwork courtesy of SCL


"12 contestants fight each other in eight different events. The competition will take place outside in the snow, without any temperature limits," declares the press release and if you've had the pleasure of seeing this competition in person, in a setting where even the bar is made from ice, you know this is no idle comment.

Events
• Truck Pull
• Deadlift
• Forward Hold

• MHP Viking Press
• Loading

• Yoke/Frame Carry Medley

• House Carry
• Giant Circle

"Reigning SCL world champion Zydrunas Savickas, who has won all the previous IceMan competitions, will be there as well, but now in a TV commentator role, a special for SCL," confirmed Timo Kangasluoma, who will be distributing the TV show of the contest.

Here is the official start list:

• Ervin Katona
• Laurence Shahlaei
• Tomi Lotta
• Krzysztof Radzikowski
• J-F Caron
• Juha Matti Järvi
• Antti Mourujärvi
• Matt Wanat
• Daniel Garcia

• Dainis Zageris
• Meelis Pailis

The one-hour TV show will be broadcast "in the spring of Finland on MTV3 and MTV3 Max," said Kangasluoma, "and the program has an extensive international distribution platform, including Eurosport 1 and 2, through which the program will be shown throughout Europe, Asia and Oceania," so if you can't make it in person, you might be able to catch the IceMan IV on TV.

###



Visit the IronMind Forum: talk strength, discuss this story. Strongman, grip, Highland Games, Olympic lifting, stones and more.

You can also follow IronMind on Twitter.