Jesse Marunde just wrote, "Recently my training partner Sarge squatted his bodyweight of 218 pounds for 98 reps . . . ."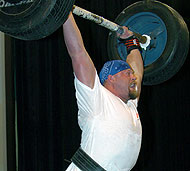 Jesse Marunde, the man who popularized the power jerk on the strongman circuit, sticks 363 pounds on the IronMind® Apollon's Axle™ at the 2005 FitExpo strongman contest (Pasadena, California). IronMind® | Randall J. Strossen, Ph.D. photo.

It's all on video, so you can read the article and see it for yourself: http://www.marunde-muscle.com/sarge98repsquat.html.

Do I hear 100?