Spencer Tyler on a Tear in Topeka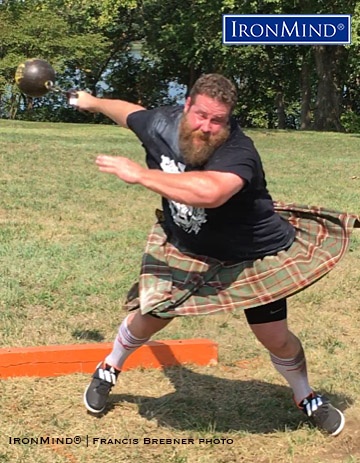 Spencer Tyler tore up the field at the 2018 Topeka Highland Games, sending the message that for everything he's already delivered, the best is yet to come.
 
 

2018 Topeka Highland Games
by Francis Brebner
President, International Highland Games Federation (IHGF)
 
At the 2018 Topeka Highland Games in Kansas, over 60 athletes took part in a one-day competition, with stellar performances all around. Austin Rhodes won the lightweight class, Mike Dickens was tops in the men's masters, and Teresa Nystrom earned the victory in the woman's class, with Spencer Tyler creating history in the pro class. Topeka was the ninth leg of IHGF All-American Championships qualifying series that included A group athletes Cory Summers, Tomas Lambotte, Jon Hereth, Mike Golay, Will Routh, Jason Tolle, Ryan Huddleston, Andrew Kneib, Jacob Thoman, and Zach Lucas.

The 22-lb. Braemar stone was close between Lambotte and Summers, both lashing out a series of putts over 37'. Summer's best at 39' 2" was good for the win over Lambotte's 39'. Inches behind, Hereth was third at 38' 7".

The 16-lb. open stone was high energy, with Summers blasting out putts all over 50', with a top mark at 53' 4". Hereth was second at 46' 5", and Lambotte third at 44' 6".
 
In the 28-lb. weight for distance, Summers topped his 80' throws at 85' 11" for the victory and a personal best. Hereth was next at 75' 6", followed by Huddleston at 64' 4".  

Still on a high in the 56-lb. weight for distance, Summers impressed with throws all over 40', winning with 43' 10". Hereth was again second with a best of 38' 10", and Kneib third at 32' 6-1/2".

Summers was in a realm of his own in the 16-lb. hammer, comfortably winning with 120' 4". A hard-fought battle for second ended with Hereth inching ahead of Huddleston, 109' 11" to 109' 9".     
                                                                                                           

In the 22-lb. hammer, the unstoppable Summers blasted 105' 3-1/2" for the win. A tight group contended for second, with Hereth prevailing at 91' 11" over Lambotte at 91' 2" and Huddleston at 90'.
 
The competition caber, 17' 6" long and 120-lb., was turned by only three athletes, with the win going to Summers at 12:15. Lambotte did 12:30 and Golay 1:00.

Hereth overarched the group in the 56-lb. weight over bar at a height of 15' 6". Golay was second at 15'.
           

The 20-lb. sheaf toss was a tie between Lambotte and Routh at 33', with the win going to Lambotte on countback. Hereth and Summers tied for third at 30'.
 


Overall 

1. Corey Summers

2. Jon Hereth
3. Tomas Lambotte

4. Mike Golay

5. Ryan Huddleston 

6. Andrew Kneib 

7. Zach Lucas
8. Jason Tolle
9. Will Routh
10. Jacob Thoman



The final IHGF All-American Highland qualifying games in the series will take place in Broken Arrow, Oklahoma, 15–16 September.
 
The pro class was comprised of five athletes: Spencer Tyler, Chuck Kasson, Andy Vincent, Nathan Burchett, and Isaac Burchett.
 
Tyler attacked the 22-lb. Braemar stone from the start, lobbing a best of 48' 3" and taking the first win of the competition. Vincent was second at 43' 4" and Kasson third at 42'.
 
Tyler took it up a gear on the 16-lb. open stone, with a series of class putts and a best of 55' 3". Vincent claimed second at 52' 3-1/2", with Kasson third at 49' 7".
 
In the 28-lb. weight for distance, world record holder Tyler was looking great in warmups and he held up in the competition, with a first round throw just over 89' and thereafter throws over 90', with a top mark of 96' 1-1/2" for the win—just inches off his own world record. Kasson also produced a class throw at 85' 1" for second; N. Burchett did 81' 1-1/2" for third.
 
In the 56-lb. weight for distance, Tyler had an inauspicious start, bobbling with two foot fouls and resorting to one turn on his final throw, safely making 47' 10" for the win. He ended on a high note, however, when on extra attempts and no pressure, he upped that mark to a stunning 52' 1" to set a new world record, the first heavy athlete to go over 52' in competition. Kasson trailed at 45' 8-1/2", with Vincent in third at 41' 1-1/2".
 
Kasson excelled in the 16-lb. hammer, throwing 133' 10". Second was N. Burchett at 129' 6", and third Tyler at 125' 7".
 
In the 22-lb. hammer, Kasson pipped Tyler, 113' 10" to 112' 2". On extra attempts, Kasson upped his mark to 115' 2". I. Burchett was third at 103' 2".

The caber toss, with a 16' 8" and a 104-lb. stick, was hotly contested by N. Burchett, Vincent and Kasson, all slamming 12:00 tosses, with N. Burchett claiming the win on countback, Vincent in second and Kasson third .
 
Tyler easily won the 20-lb. sheaf over the bar at a height of 30'. A three-way tie for second between Vincent, N. Burchett, and Kasson stood at 27'.
 
An epic match developed in the 56-lb. weight over the bar at 18', with Tyler clearing the height for the win, leaving Kasson at 17'; I. Burchett was third on 16'.
 
Overall
1. Spencer Tyler
2. Chuck Kasson
3. Andy Vincent
4. Nathan Burchett
5. Isaac Burchett
 
Tyler delivered an incredible performance with best-ever throws recorded in a single Highland games in the combined 28-lb. and 56-lb. weights for distance. Predictions are that Tyler will be the first athlete throwing over 100' in the 28-lb. weight for distance, and that he will excel even more in the 56-lb. weight for distance.
 
With a total of 8 to his credit, Tyler has the most world records in the sport since the great legendary heavy events athlete Donald Dinnie:
 
4 outdoor world records
28-lb. weight for distance at 96' 6"
56-lb. weight for distance at 52' 1"
spinning WOB at 20' 6"
20-lb sheaf toss at 36' 5"
 
4 indoor world records
56-lb. weight for distance at 51' 1",
standing WOB 19' 3"
18-lb. shot putt at 57' 9"
25-lb sheaf at 31'
 
Tyler is on a path to becoming one of the greatest heavy athletes in the sport of Highland games as he continues to push the barriers with world record performances.   
 
                                                                  ###



Follow IronMind on Twitter, Instagram and on Facebook.


Want to talk strength? Visit the IronMind Forum: Strongman, grip, Highland Games, Olympic lifting, stones and more.