Spencer Tyler Wins Webster Worlds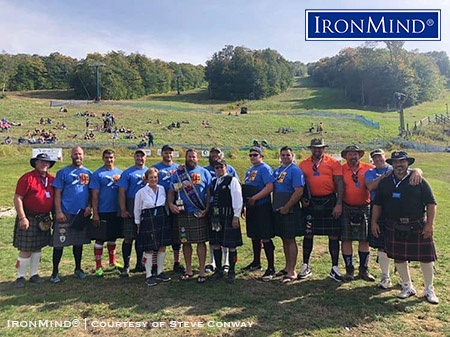 The 2019 edition of the Highland Games World Championships were hosted by the New Hampshire Scots—giving the crowds at Loon Mountain a chance to watch a dominating performance by Spencer Tyler that included a monster world record in the 56-lb. weight for height.
2019 Scottish Highland Heavy Events World Championships

by Steve Conway

Blue skies, clouds like cotton balls, miles of trees just starting to turn Fall colors, the smell of pine tar in the air; this could only mean one thing, it's time for the Loon Mountain Highland Games! This year the New Hampshire Scots (NHSCOTS.com) hosted the Scottish Highland Heavy Events World Championships, the longest running professional championship, started by David Webster O.B.E. 40 years ago.

Ten athletes from eight countries:
Lorne Colthart – Scotland
Josh Goldthorp – Canada
Pieter Karst Bouma – Friesland
Chuck Kasson – USA
Glenn Georges Nys – Belgium
Scott Rider – England
Daniel Tennison – USA
Vlad Tulacek – Czech Republic
Spencer Tyler – USA
Lukasz Wenta – Poland

The competition began Friday afternoon with both hammers, heavy first followed by light. Spencer Tyler looking lean and focused wasted no time in letting the other competitors know that he was the man to beat, he went 137'5" in the 16 lb. hammer and 115'1" in the 22 lb. Lorne Colthart, the Scot and probably the favorite in this event, had to settle for a close second place. Vlad Tulacek was right behind them in third with the rest of the athletes clustered just below. It was clear that it was going to be a close battle all the way through.

Saturday morning dawned clear and unseasonably warm, that weather would last all the way through the competition. The crowd was starting to seat themselves early, many had placed their chairs around the field on Friday, and their numbers grew very quickly until the field was ringed with thousands of spectators. What a fantastic venue for this championships!

 First up was the open stone which would prove to be the only hiccup for Spencer Tyler. Vlad Tulacek fresh off his win at the U.S. Invitational Championships and the Braemar Games showed everyone why he is a top ranked shot putter with a strong 57' ¾" effort, Spencer took second with 56' 3 ½" and Dan Tennison followed closely in third with 56' ½". Half of the athletes were over 50' and the rest weren't far behind.

The 56 lb. weight for distance was next, right in Spencer's wheelhouse, he holds the world record. An extra throw and World Championship record at 47' 2 ½" was 3' further than his next closest competitor. He was starting to gather steam…

Next up was caber, Loon Mountain is known for solid cabers and this one didn't disappoint. Spencer opened up with a 12:15 in the first round but the man from Friesland, Pieter Bouma, turned a 12:00 and slid into first place. Then Tyler took control with two 12:00's in rounds two and three, Pieter settled for second with Vlad in third.

The last event for the day was Weight over the Bar, this was a close fight until 17' when only three athletes remaining, Spencer, Vlad and Dan Tennison. 18' took out Vlad and Dan but Spencer cleared it easily, he had yet to miss an attempt. He then asked to have the bar set at 19'5", the height that would break his existing world record. He stepped up to the bar with the crowd beginning to go crazy, a miss. Second attempt, a miss. Third attempt, there was deafening crowd noise, everyone wanted to see a world record and there it went, 56 lb.. up and over the bar for the record. What a way to finish the day!

Day three, the Braemar stone was up first. Our Athletic Director Dr. Bill Crawford loves big rocks, this beauty was 27+ lb. very heavy for a Braemar stone. At this point Spencer has won all but one event and set a new World Championship record and a new World record along the way, to say he was dominating would be an understatement. Keep in mind that the rest of these athletes are all world class throwers with many championship wins and records of their own. Please don't take anything away from them, they were all locked in a fierce battle right behind Spencer. Every one of them had a moment to shine along the way, it was exciting to watch as they swapped places in the overall. Spencer was the only one to get this monster over 40'; 41' to be exact. The rest were mostly in the mid 30's but Vlad had a very respectable putt of 39' 6 ¼" to put him in second, Lukasz Wenta, another great shot putter was third with 37' 9 ¾".

The last event of the competition was the 28 lbs. weight for distance, another event in which Spencer holds the world record. Just a few weeks ago he set a new record of 97' 7 ½" at the U.S. Invitational in Pleasanton, CA. Any mark in the 80' range is considered very good, few people in the world are consistently in the 80's. Veteran Scott Rider uncorked an 83' 4 ½" throw to claim second and newcomer Glenn Nys took third with a very respectful 82' 11 3/4''. Spencer finished with an incredible 95' 3 ¾", a whopping 13' past his nearest competitor. He then proceeded to take three extra throws, one of which he barely fouled at 98'+ and one in which he came flying out of the box just missing judge Petur Gudmundsson, scorekeeper Tommy de Bruyn and this reporter/emcee. It was exciting to say the least…

That concluded the overall events, Spencer had come out charging and never looked back. I don't believe there's ever been such a dominating win in the World Championships. He finished with a total of 9 points, Vlad Tulacek was second with 26 points, and third was Dan Tennison with 44. Fourth place was Lorne Colthart with 45, fifth was 2018 World Champion Chuck Kasson with 46, sixth went to Scott Rider with 49, seventh was Glenn Nys with 49 ½, eighth was Lukasz Wenta with 51, ninth was Josh Goldthorp with 59 followed in tenth by Pieter Bouma with 60 ½.

As if that wasn't enough for Spencer, he finished the day off with three perfect 12:00's in the Challenge Caber event, a 25' wobbly pole. Second was Vlad Tulacek and third Dan Tennison.

What an incredible World Championships, great effort by all the competitors. Thank you to Bill and Holly Crawford for putting it all together, a big thank you to the many volunteers that make it happen. Thank you to NHSCOTs for holding such a fantastic Scottish Games and Festival! Next year the World Championships will be in beautiful Fergus, Canada, come on up and see us!

Also of note were two other items; the debut of a women's pro class at Loon Mountain., Adriane Wilson and Nikita Marzano put on a quite a demonstration of top notch throwing much to the delight of the enthusiastic crowd, they will be back!

Last but not least by any standard, strongman and elite stone lifter Steve Schmidt set a world record by pressing a 363 lbs. block of unforgiving New Hampshire granite over his head. You had to see it to believe it! Congratulations Steve!
 
                                                        ###



You can also follow IronMind on Twitter, Instagram and on Facebook.                       



Want to talk grip, strongman, weightlifting . . . everything strength? Visit the IronMind Forum.