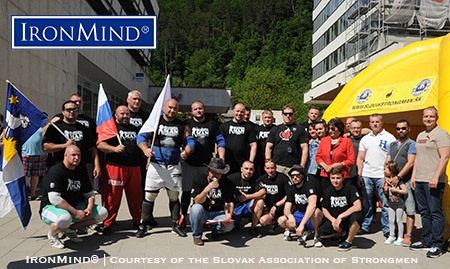 "Five challenging disciplines determined the winner of the title Slovak Strongest Man," Pavel Guga reported to IronMind.

"Frantisek Piros won the Super Yoke and the Log Lift; Igor Petrik won the Tire Flip and the Farmer's Walk. 

"Igor Petrik prepared well and that means that he became the Strongest Slovak Man again. He dominated in many competitions last year, such as Slovakia's Strongest Man; he won the Matus Cak Sword and he gained the victory in Central European Cup and the start of 2015 season has also successful.  To sum it up, Slovakia Strongest Man 2015 was again Igor Petrik. Congratulations!," said Pavel Guga.

Results
1. Igor Petrík 61.5
2. František Piros 52
3. Maroš Kubovič 46
4. Pavol Jambor 46
5. Marek Tóth 40.5
6. Maroš Kostelanský 37
7. Ivan Hryyhorovskyy 32
8. Peter Rekenei 29.5
9. Martin Dulai 23.5
10. Roland Hegeduš 23
11. Miroslav Pohlodek 21.5
12. Ľubomír Grigľák 20
13. Juraj Rákoci 18.5

Referees: Pavol Guga and Branislav Golier

                                                          ###



You can also follow IronMind on Twitter and on Facebook.                        



Want to talk strength?  Join the IronMind Forum.