Shi, Le and Sampanis Rock Athens
Athens – Anyone who had any doubts about the weightlifting competition being any less than thrilling should have been here tonight as Shi Zhiyong (China) and Le Maosheng (China) took it down to the last lift to determine the 62-kg men's weightlifting gold medal, and Leonidas Sampanis (Greece) brought down the house with his bronze medal performance.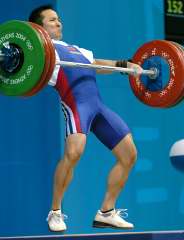 Shi Zhiyong (China) reverses directions and starts pulling himself under his 152.5 kg snatch. IronMind® | Randall J. Strossen, Ph.D. photo.


Le got himself in trouble when he missed his opening snatch, 140 kg., as it went up and then back over his head. He stuck it on his second attempt, so some might have felt that if he could make his next lift, 145, he would still be in the hunt for the gold medal. Le missed the weight, once again sending the bar up and over his head backwards. Meanwhile, Sampanis, who had gotten the crowd rocking with his successful 140-kg opener, hit 145 kg on his second, before running out of horsepower on 147.5 kg, the weight that Shi had just blown up on his opener. Shi pulled 152.5 up and over his head on his second attempt, and then made it look easy for a successful third attempt and a commanding lead going into the clean and jerk.

Sampanis isn't the world's surest jerker, so everyone breathed a sigh of relief when he made a good lift with 162.5 kg on his first attempt. Shi, who is a squat jerker, made a very nice first attempt with 167.5, which he finished off from a half-squat. Sampanis took the same weight for his second and wasn't close on the jerk, so when he repeated the weight on his third attempt and struggled to stand up with it, his great jerk put the crowd in orbit. There were eight misses at 170 kg, so when Le opened strongly with 172.5 kg we had to remember that it isn't over until it's over. Shi wasn't going to make things easy for his teammate, though, because he also made a very good lift with the same weight, and then celebrated with a back flip.

We knew what was coming because Le only had to break his own world record in the clean and jerk by an audacious two-and-a-half kilos and the gold medal would be his. First, though, Shi would take 175 and jerk it to arms' length overhead, before dropping the bar as he stood up. Next, sure enough, Le came out for 185 kg, and even though he missed racking it on his second attempt, and only did a pull on his third, until that final moment, you can bet there were some believers. Where the lifting finished, the Greek fans began, and they turned the medal ceremony into a powerhouse party as their man, Leonidas Sampanis, picked up the bronze medal.