Sheldon Trefenanko Certifies on the Crushed-To-Dust Challenge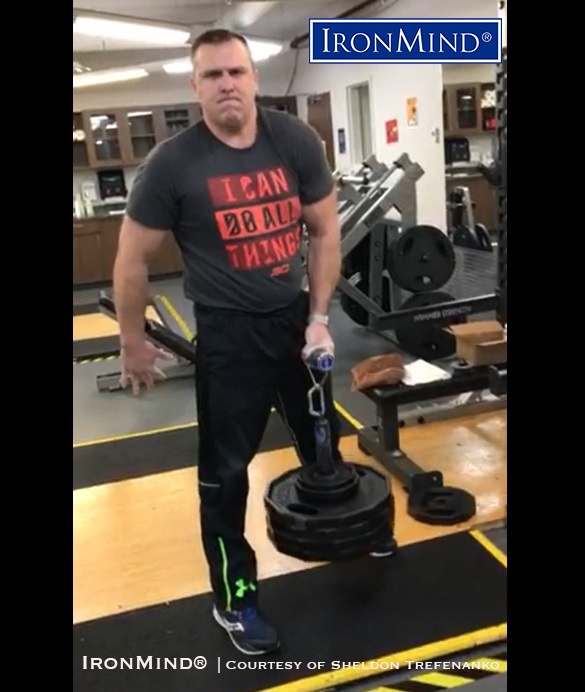 Remember his name because for Sheldon Trefenanko, certifying on the Crushed-To-Dust® Challenge sounds like only the first step in proving his world-class grip strength.
"I am a very proud father of 5 children, so family time is very important to me," Trefenanko told IronMind. "I work in the Oil and Gas industry, and we also have a small family farm. We love everything outdoors: Hunting, fishing, camping and boating, and all winter sports. Living in Northern Alberta, it's a must.
"I have always felt I had a good grip strength naturally and really wanted to challenge myself this year and see what I could do with the equipment and training tools that IronMind offers. I want to become certified and part of the elite group of people that can actually complete these challenges.
"I have adjusted my training to concentrate more on grip strength in the last 5 months. I train both the Crushed-To-Dust and Captains of Crush (CoC) grippers on a weekly basis, along with my regular work outs. It has definitely paid off with the results I have seen. CoC No. 3, Silver Bullet and the Red Nails are next on my to-do list.
"I really enjoy your equipment and sharing the experiences," Trefenanko said.
Here's a video of Sheldon Trefenanko marching through the Crushed-To-Dust Challenge.
Congratulations, Sheldon—your name has been added the official certification list for the Crushed-To-Dust Challenge!
###



You can also follow IronMind on Twitter, Instagram and on Facebook.


Want to talk grip, strongman, weightlifting . . . everything strength? Visit the IronMind Forum.