Shahin Nasirinia Would Like Coaching Position in USA
Shahin Nasirinia told IronMind yesterday that while he is happy with his current job, his first love is weightlifting and he would especially like a job coaching juniors, because he is most interested in developing great lifters for the future.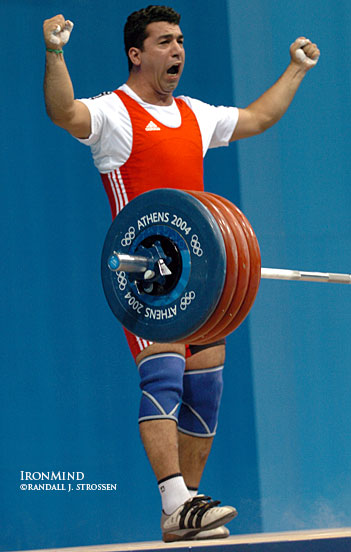 He had only made his first attempt in the snatch, but when he made this 220-kg clean and jerk on his second attempt at the Athens Olympics, Shahin Nasirinia (Iran) still had a shot at a medal. IronMind® | Randall J. Strossen, Ph.D. photo.

"I have been in weightlifting for 17 years," Nasirina told IronMind®. "I like weightlifting very much and would like to teach weightlifting," saying that he would be willing to relocate within the US for an appropriate job. Nasirinia's interest has been relayed to USA Weightlifting, but if there is nothing within the national governing body of the sport, Nasirinia is hoping that a club or a school might be able to offer him a position.

Shahin Nasirinia's electrifying performance at the 1999 World Weightlifting Championships is seared into the minds of all who were lucky enough to be there, as he uncorked a huge clean and jerk to grab the title from hometown superhero Pyrros Dimas. Now 32, Nasirinia told IronMind® that he stopped training a year ago, realizing that at this stage in his life, he is better suited to stay involved in weightlifting as a coach than as a competitor.