Sergey Petrosyan: Wins 62s at the Europeans
Lignano Sabbiadoro, Italy - Holding off a determined Erol Bilgin (Turkey), Russia's Sergey Petrosyan won the 62-kg category last night at the European Weightlifting Championships.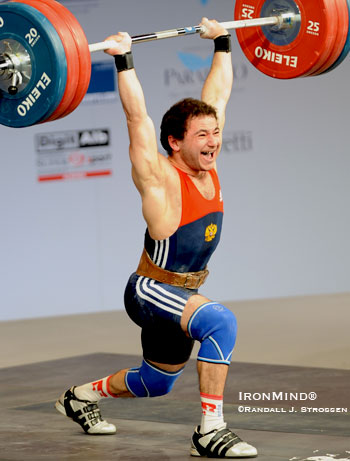 Sergey Petrosyan made this 165-kg clean and jerk on his second attempt, putting him into the lead, a position he never gave up. IronMind® | Randall J. Strossen photo.

The snatch competition featured a duel between Erol Bilgin and Sergey Petrosyan, with the Russian teenager opening with a nice 130 kg. Bilgin, who was thirty grams lighter than Petrosyan, followed with the same weight, to move into first place. Petrosyan answered with 135 kg on his second attempt, to leapfrog over Bilgin, who responded with a successful lift at the same weight, to regain the lead. Both lifters missed 137 kg on their third attempts - Petrosyan couldn't get under the weight and Bilgin appeared to have made the lift, but he lost it as he was standing up.

The clean and jerk saw Bilgin and Petrosyan chasing each other again, as Petrosyan opened with a good 160-kg lift, to move into first in the jerk and in the total. Bilgin matched the lift on his opening attempt, to push Petrosyan into second in the clean and jerk, as well as the total. Petrosyan replied by making a very solid 165 kg on his second attempt, regaining the lead, and Bilgin tried to answer by calling for the same weight: He got under the bar, fought his way up, but missed the jerk. Bilgin repeated with 165, but once again, he missed the lift - this time, failing to rack the bar.

Having won didn't stop Petrosyan, as he took 167 kg on his third attempt and made another nice lift, good for new junior European records in the clean and jerk, and in the total.