Sergei Koniushok: Strongman World Record in the 105s
His opening day performance at the 105-kg Strongman World Record Breakers competition including doing just that - breaking a world rcord - and Sergei Koniushok is the leader after the first day of competition.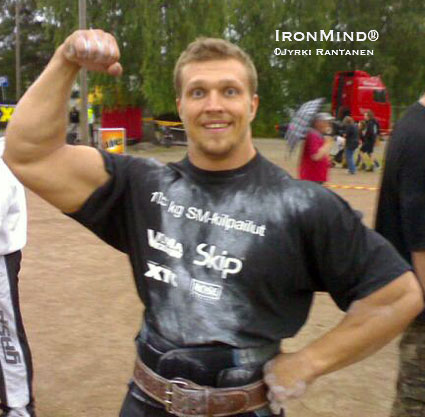 Sergei Koniushok leads the 105-kg Strongman World Record Breakers meet. IronMind® | Jyrki Rantanen photo.


Things opened with the medley, which Hartikainen won, with Maris Rozenthals second and Sergei Konisok third.

Next up was the log lift for maximum weight: Koniushok won with 155 kg, followed by Rozenthal at 150.

Koniushok proved the contest name was for real as he broke the world record in the farmer's walk, 120 kg/70 meters in 30.82 seconds.

The last event of the day was a truck pull, which produced close competition. Unofficially, these are the top places and points after the first day:

Sergei Konishok 71 points
Janne Hartikainen 66.5
Marius Lalas 57
Maris Rozenthals 56

"Sergei looks strong, but Hartikainen is always dangerous," Jyrki Rantanen told IronMind®.

Watch for more live coverage on Twitter tomorrow, as well as in this news column.