Sen-Sa-tional Performance: Korean Weightlifter Sa Jaehyouk Delivers Stunning Performance at the Olympics
Beijing - With six gold medals in weightlifting already, the Chinese team was looking nearly unstoppable, but the pattern was broken tonight when Korea's Sa Jaehyouk faced off with a talent-laden field in the 77-kg category and calmly delivered the big clean and jerk that put the Olympic gold medal around his neck.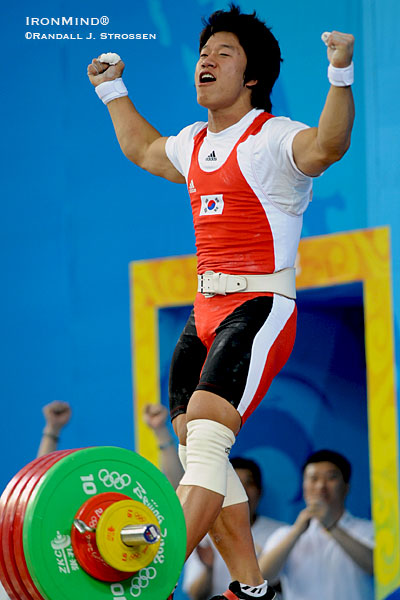 The giant slayer celebrates: Korea's Sa Jaehyouk enjoys the moment after he knocked off the biggest names in the 77-kg class at the Olympics tonight. IronMind® | Randall J. Strossen, Ph.D. photo.

In this field, Sa Jaehyouk, a mere junior world champion, was almost a lifter who could be overlooked. Among the guys with big credits, this is who lined up to lift tonight: Li Hongli (Asian Games champion, junior and senior world champion), Gevorg Davtyan (junior world champion, European champion), Oleg Perepechenov (European champion, current world record-holder in the clean and jerk) and Taner Sagir (defending Olympic champion, junior and senior world champion, Olympic and junior world record-holder). If these guys threw their medals in a pile, they could practically have been used to load the bar with instead of plates.

Taner Sagir (Turkey) and Gevorg Davtyan (Armenia) were the last to open in the snatch, both calling for 165 kg, and it was a painful start for both of them. Sagir was reported to be in top shape, but three times he ripped the bar up and over his head, exploding off the front of the platform, and in three lifts he had propelled himself out of the competition. Gevorg Davtyan (Armenia) was also playing with fire and he missed the same weight twice, as it looked heavy and he seemed to be moving both the bar and himself none too quickly, but under extreme pressure, he made a good lift on this third attempt - being very cautious to control the bar after he had gotten it overhead. You could feel the collective sigh of relief from the Armenian contingent.

Li Hongli, who had opened with a silky smooth 163 kg, went on to make 168 kg before missing with 170.

Li Hongli has always been a huge snatcher, but more than once, his performances have been stung by an inconsistent jerk, so all eyes were on his opener, 195 kg, to see if it would signal whether he would be able to hold onto his lead. He stuck the lift. Davtyan missed the jerk on the same weight, and then made it, once again lifting very methodically. The Chinese team was not getting overly aggressive with Li Hongli's attempts and when he missed the jerk on 198, his lead suddenly appeared very vulnerable, but he came back to make it, increasing his lead.

Perepechenov, who had made 192 on his opener, missed 199 twice, unable to rack the bar, and by now almost everyone was done, but the two Korean lifters - Sa Jaehyouk and Kim Kwanghoon - hadn't even begun.

When Kim Kwanghoon stuck 200 on his opener, that said it all: the Koreans were for real and things were about to get extremely interesting.

Sa Jaehyouk opened with 201 kg, going for second place, and he nailed it. Davytan, who had been fighting back all night, took the same weight on his third attempt, going for first place, but he missed the jerk. The hall was filled to capacity, but it was quiet when Sa Jaehyouk came out for 203 on his second attempt - not tension-filled quiet, but the sort of quiet that suggested maybe not everyone understood that if Sa Jaehyouk made this lift, he would be the Olympic champion. The "if" quickly vanished in the rearview mirror because this was Sa Jaehyouk's night and he owned the weight. His teammate took 206 kg on his third attempt, going for the bronze medal, and he almost made it - only failing because he lost control of the jerk when the bar was overhead.

On his third attempt, Sa Jaehyouk called for 211, to break the Olympic and world record in the clean and jerk, but he missed the jerk. What he didn't miss was slaying an incredible field, and for his reward, Sa Jaehyouk will be returning home to Korea with an Olympic gold medal around his neck.