Second SCL Australian Qualifer
As plans move forward with SCL Australia next year, the second qualifier took place last weekend.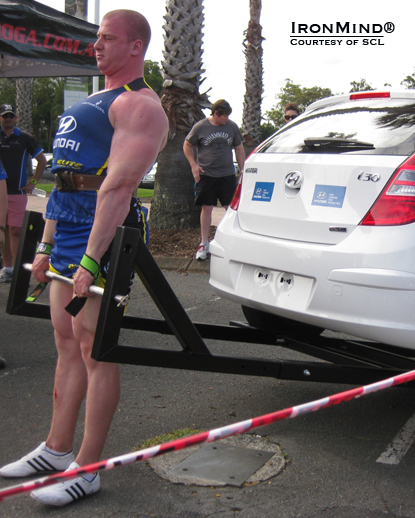 Sam Pennell on the Hyundai Car Deadlift. IronMind® | Courtesy of SCL.


"Invites had gone out to the best athletes in Australia, including Derek Boyer, Ebin Le Roux and Daniel Macri," SCL cofounder Marcel Mostert told IronMind. "Unfortunately they declined the invitation which opened the door to some of Australias better amateur athletes.

"Warrick Brant took part in the event to keep himself in competition condition and had a clean sweep of all the events winning 6 of 6 events. A big surprise was Sam Pennell: This was his first strongman competition and showed some huge potential coming in third place behind Warrick Brant and Marc wells. 18-year old Jackson Murrie showed what he was made of as he fought a huge battle all day to keep up with the more experienced athletes.

"The top 6 athletes to move on to the final qualifier are:

1. Mike Jones
2. Sam Pennell
3. Marc Wells
4. Rob Kilpatrick
5. Adam Rose
6. Matt Aichholzer

"Two international athletes and two New Zealand athletes will join the boys in the final to make an explosive field of 10 athletes. The top two Australian athletes will join Warrick Brant in The Strongman Champions League (SCL) Australia event in 2012," said Mostert.

###



Visit the IronMind Forum: talk strength, discuss this story. Strongman, grip, Highland Games, Olympic lifting, stones and more.

You can also follow IronMind on Twitter.