Sebastian Wenta Wins Alva Highland Games
Crossover competitor Sebastian Wenta won the Alva Highland Games over the weekend.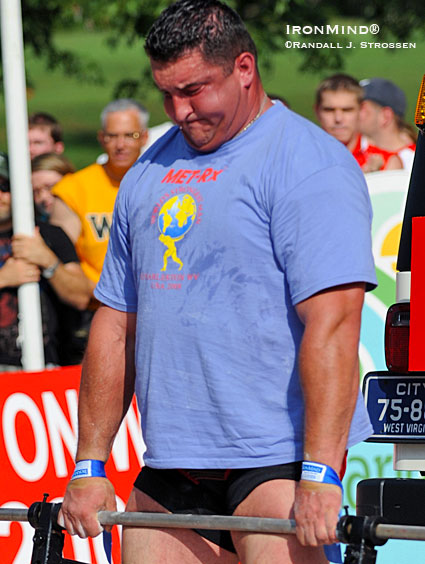 Sebastian Wenta is also a top strongman competitor; here, he's competing in the 2008 World's Strongest Man contest. IronMind® | Randall J. Strossen photo.


2009 Alva Highland Games

Reported by Francis Brebner

The Alva Highland Games in Scotland this past weekend were invaded by a top international field of heavy athletes from around the globe. More than 10,000 spectators poured into the Games to watch the big names like Sebastian Wenta and brother Lukasz Wenta, who shared top billing with the boys from down under, Aaron Neighbour and Pat Hellier, and Scotland's own Bruce Robb and Craig Sinclair.

The opening event got off to an exciting start with some of the biggest throws I have seen in the 16-lb. shot put at a Highland Games in the past 20-some years. Sebastian Wenta blasted out an awesome throw of 58' 5" for first place. Just inches behind was younger brother Lukasz Wenta in second place with a throw of 57' 8"; in third place was the big Australian Aaron Neighbour at 55' 8", followed by Bruce Robb in fourth at 52' 8".


The next event, the 22-lb. stone, was just as thrilling, if not more so, with Sebastian Wenta producing another world-class throw of 48' 6" for his second win. Once again Lukasz Wenta was in second place with another awesome throw of 46' 11", with Scotland's Robb nudging ahead of Neighbour at 44' 4", leaving Neighbour in fourth place at 43' 9".

The 28-lb. weight for distance, a very dour weight to throw, was a piece of cake for Neighbour, who claimed his first win with a distance of 85'. A real tussle developed between Sebastian Wenta, Robb and Sinclair for second place, with Wenta snatching the spot with a throw of 78' 10". Robb landed in third at 78' 7" and Sinclair in fourth at 78' 3".

Again in the 16-lb. hammer it was a ding-dong battle, with Neighbour coming out on top with his second win, a distance of 133' 11". In second was Sebastian Wenta at 132' 6" and in third Sinclair at 132' 1". New Zealander Pat Hellier took fourth place at 125' 6".


There was a real surprise in the 22-lb. hammer when Sebastian Wenta threw a colossal distance of 113' 3" for his third win of the competition. Neighbour, Sinclair and Hellier battled it out for second spot, with Neighbour just going ahead with a throw of 109' 5"; in third was Sinclair with 108' 5" and in fourth, Hellier at 107' 2".

The next event used a 220-lb., 16' long caber, and it must be said that this is probably one of the heaviest cabers ever tossed even though it is on the short side. As one athlete noted, it was very thick, with very little taper, and it is actually a new telephone pole—a pure beast! Sebastian Wenta showed great form and Herculean strength, and he was the only athlete to turn the caber, with a result of 12:10. Robb was second with a fair attempt at 88 degrees, with Neil Elliot in third place with 80 degrees, and Hellier in fourth with 75 degrees.

In the final event of the competition, the 56-lb. weight over the bar, Sebastian Wenta took the win at a height of 16' 2". In a second place tie at 15' were Lukasz Wenta and Neighbour.

Final standings:
1. Sebastian Wenta
2. Aaron Neighbour
3. Bruce Robb