Sebastian Wenta: Highland Games Heavy
He's dominated the Highlander format created by Dr. Douglas Edmunds, but don't think that means Sebastian Wenta is anything less than world class in the traditional Highland Games as well.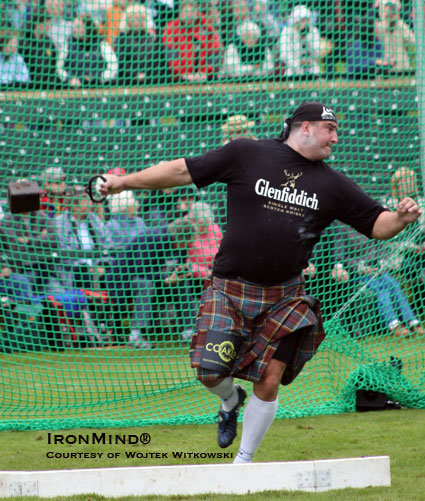 Sebastian Wenta on the 28-lb. weight for distance. IronMind® | Photo courtesy of Wojtek Witkowski.


"In this year he was at England, Scotland, Ireland - at all Highland Games and Highlander Challenge competitions," his manager Wojtek Witkowski told IronMind® today. "18 starts and he wins 17 and in 1 he was the second! I think that it is a record!." As reported earlier, Sebastian Wenta spent last weekend winning top honors at the most prestigious Braemar Royal Highland Games, as a another crowning achievement this season.

"On 19 of September, Sebastian Wenta will organize in his own city the first Polish Championships in Highlander Challenge with special guests (Polish Olympians):

* Szymon Ziolkowski - hammer throw
* Tomasz Majewski - shot put
* Piotr Malachowski - discus throw

"This competition will be the first, but in next year he will organize more with Dr. Douglas Edmunds. The historic value of the show and all standards would be upheld," said Witkowski.