Sean Betz Wins the Sacramento Highland Games
With most of the top competitors on hand, the Sacramento Highland Games with the 2008 and 2010 world champions taking first and second place, respectively.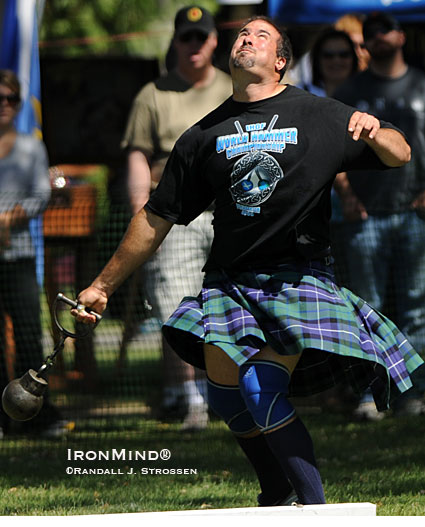 2008 world champion Sean Betz won this weekend's Sacramento Highland Games (file photo). IronMind® | Randall J. Strossen photo.


2011 Sacramento Highland Games
by Francis Brebner

At the 2011 Sacramento Highland Games this past weekend, it was a very close competition among the top pro athletes, with Sean Betz winning the overall prize. A crowd of over ten thousand spectators witnessed seven top heavies do battle: U.S. athletes Sean Betz, Rusty Price, Chad Gustin, Mike Pockoski, Dan McKim, and Larry Brock; and Canadian Greg Bell.

In the opening event, the 16-lb. open stone, Price let rip with a cannonball put of 55' 6" for the win; Betz came in second place with 52' 9" and Pockoski third with 50' 11-3/4".

Price again dominated the second event, the 22-lb. Braemar stone, with a massive put of 43' 4", and Betz again followed in second with a respectable put of 39' 8", with McKim this time taking third at 38' 9-1/2".

In the 28-lb. weight for distance, the herculean McKim notched his first win with a distance of 81' 10-1/2". In a close second place was Betz with 81' 6"; and in third, Price at 80' 4".

In the 56-lb. weight for distance Betz went up a gear for the win at 41' 1". Brock was second at 40' 9" and Pockoski third at 40' 6-1/2".

In the 16-lb. hammer McKim pulled out his second win of the day with a throw of 135' 2-1/2", leaving Pockoski in second at 130' 4-1/2" and Price in third with 128' 11".

The 22-lb. hammer was a close event, with Pockoski finally snaring the win with a distance of 114' 1-1/2". Betz came in second at 111' 11", with McKim a smidge behind at 111' 8-1/2".

In the caber, which was 19' long and 130-lb., it was no surprise that McKim was the worthy winner with a toss of 11:50. In second place was Pockoski at 9:45 and in third, Betz with 9:30.

The last event, the 56-lb. weight over the bar, was rather interesting as those using the traditional standing style of throwing and the spinners vied for the win. Brock clinched first place on countback at 17' using the spinning method; Betz took second at 17' in the traditional style; and McKim was third at 16', also standing.

Overall points:
| | | |
| --- | --- | --- |
| 1. | Sean Betz | 18.0 |
| 2. | Dan McKim | 21.5 |
| 3. | Rusty Price | 23.5 |
| 4. | Mike Pockoski | 26.0 |
| 5. | Larry Brock | 37.0 |
| 6. | Chad Gustin | 47.0 |
| 7. | Greg Bell | 47.0 |
Steve Conway, who was officiating the event, felt it was a very good competition overall. He noted that Brock gave his all during the course of the competition despite suffering from a shoulder injury which will require surgery once again in a few months and unfortunately will put him out of commission for a while. Conway also said that Price had really taken his throwing to a new level, particularly his weight for distance throwing and hammers, and he was looking forward to seeing how Price progressed over the season: his stone putting was at his best, and with his extra attempts on the 16-lb. open stone, Price produced a put of 56' 2", which looked effortless.

###


The IronMind Forum: discuss this article, talk strength, get help with your training.

You can also follow IronMind on Twitter.