Sean Betz Wins the 2010 Las Vegas Highland Games
Sean Betz is showing fine early-season form as he won the Las Vegas Highland Games this past weekend.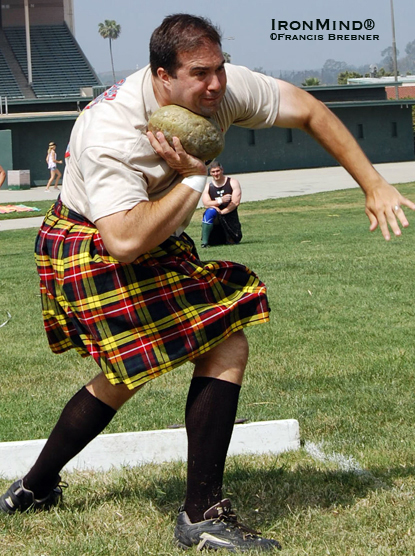 Sean Betz won at Las Vegas last weekend and he has his eye on regaining the Highland Games world champion's crown next month. IronMind® | File photo courtesy of Francis Brebner.


2010 Las Vegas Highland Games
by Francis Brebner

At the Las Vegas Games this past weekend more than ten thousand spectators turned out to watch our band of tartan-clad heavies do battle, with Betz coming out on top.

The opening event with the 28-lb. Braemar Stone witnessed Rusty Price snatching his first win on his last throw of 42', knocking Sean Betz into second place with 41' 7". Harrison Bailey was in third place with 40'.
 

In the second event with the 16-lb. open stone, Rusty Price again showed great form and technique, with all four throws over 55', notching a second win and also adding a new ground record with his putt of 56' 10". Betz came in second place with 52' 7" and the Canadian champion Greg Hadley landed in third place with 50' 7".


In the 56-lb. weight for distance, everyone looked a little shaky but despite this, Harrison Bailey pulled off the win with a throw of 42' 7"; in second place was Andrew Hobson with 42' and in third place Hadley on 41'. 
 

Moving to the 28-lb. weight for distance, Betz nailed the win with a throw of 83' 4" over Bailey in second place with 78' 9". Chad Gustin took third place with 78'. 
 

The 22-lb. hammer could not have been closer between Hadley and Betz. The Canadian champ produced a clutch throw of 113' 9" on his last attempt and added 6' to his best to win by the narrowest of margins over Betz at 113' 7". Bailey took third place with 104'. All were very good distances for throwing uphill in this event.
 

In the next event, the caber, which was nicknamed the Gorilla because of its size at 19' long and 130 lb., only three athletes could turn it. Hadley once again showed great timing with a 10:45 toss; in second place was Betz with 9:45 and in third Harrison with 9:00.
 

The final event was the 56-lb. weight over bar, and Bailey took this event with a winning height of 17' 6". In second place was Betz, also with 17' 6", on countback. A special note must be made as Betz set a personal record using the traditional standing style of throwing, clearing a height of 17' before changing to the spin at 17' 6". Andrew Hobson and Chad Gustin tied for third place at 17'.


"It was great competition," said Betz, "and I am very happy with my performance. I was especially happy with my weight over bar and caber but just need to work a little more on my weight for distance; but I am where I want to be at this point in the season building up for the IHGF World Championships in Victoria next month. Greg Hadley looked better than ever and Harrison is looking solid as usual and only needs to improve his hammers for the Worlds. 

"Chad Gustin threw in only his second pro games and has put on some weight since he was an amateur last year and is going to be force to be reckoned with in the future. Rusty's stones were awesome and he's starting to figure out the rest of the events. Hobson's weight throws and weight over bar are looking good. Ryan Stewart is a new pro and is getting over a knee injury but gave his all and competed very hard."
 
 

Top three, overall points:
| | | |
| --- | --- | --- |
| 1. | Sean Betz | 16 |
| 2. | Harrison Bailey | 17 |
| 3. | Greg Hadley | 21 |