Sean Betz Wins a Cliffhanger at the Wichita Highland Games
It was 2008 world champion Sean Betz versus a top contender and 2010 world caber champion Dan McKim in Wichita this weekend, as they wrestled for the pro title at the Wichita Highland Games, and Thom Van Vleck called the action for IronMind.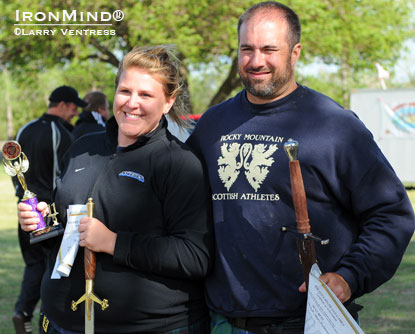 Felecia Simms (women's class) with Sean Betz (pro class) won big at the Wichita Highland Games. IronMind® | Larry Ventress photo.


2011 Wichita Scottish Highland Games: A Do-or-Die Duel
by Thom Van Vleck

Sean Betz won the pro class by the narrowest of margins over Dan McKim at the 2011 Wichita Scottish Highland Games. Betz started his morning with a huge personal best of 45' 10" in the heavy weight for distance, beating Harrison Bailey's 44'. Throughout the morning Betz and McKim traded wins and by afternoon, Betz had a comfortable 5-point lead with three events left.

Then McKim made an epic charge to challenge Betz for the win. It started with 2010 world caber champion McKim proving again if someone makes a bigger caber, he will turn it. McKim was one of only three pros to turn the caber and the only one to get a 12:00. This pulled him within 2 points of first.

Then, in what I have called the "sheaf heard 'round the world," McKim closed within 1 point and here's the drama. At 33' in the 20-lb. sheaf toss, McKim and Betz were both in . . . and McKim cleared the top of the standards on his attempt. They went to 34' and only McKim was left, winning the event. Then, with the crowd revved up, judge Mike Smith (former pro and one of only four men ever to go over 35' in the sheaf) declared that if McKim cleared the top again, he would throw a tape over the top and count it. McKim made his toss and the sheaf appeared to roll over the wire . . . but not everyone agreed so while the judges debated, McKim yelled to the crowd, "How about I just do it again?" And he did it again . . . but again, it appeared to roll over or under and the judges conferred . . . and again McKim decided to put all doubts to rest and for the fourth time he stepped up and launched the sheaf so far over the bar it cleared the flags mounted on the top! The crowd cheered enthusiastically and appreciatively.

Al Myers, also a former pro world record holder in the sheaf, told me that in his opinion, the toss would have beaten Eric Frasure's current record of 36' 2". The standards were topped out and measured and McKim was given credit for 35' 2". But there is no doubt Eric's record is in jeopardy. Another note, McKim did this toss standing, which is considered a more difficult style to attain such a great height. His performance pulled McKim within 1 point of Betz going into the weight over bar.

If McKim beat Betz in that final event, they would tie and have to win on a tiebreaker—and it appeared that McKim had all the momentum. But Betz is not the 2008 world champion for nothing. In a clutch throw, Betz cleared 17' and though McKim equaled it, he had one miss which put Betz ahead on countback and sealed the overall victory in an exciting finish that had the entire field watching at a standstill. Bailey hung on to third, winning the weight over bar with a spectacular 18' throw.

1. Sean Betz
2. Dan McKim
3. Harrison Bailey
4. Chad Gustin
5. Ryan Stewart
6. Larry Brock

###



The IronMind Forum: discuss this article, talk strength, get help with your training.

You can also follow IronMind on Twitter.