Sean Betz Wins Alva Highland Games
Francis Brebner might be retired as a competitor, but he has anything but left his beloved Highland Games behind, as he continues his coverage for IronMind® of top Games around the world.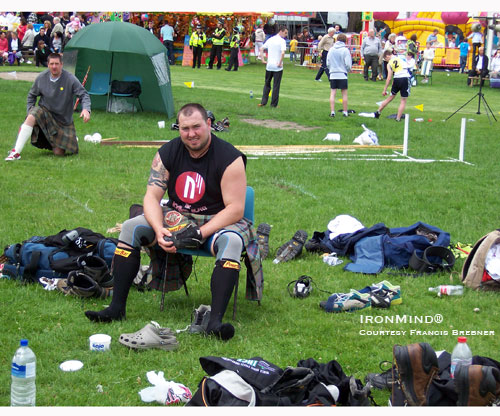 Empathizing with Imelda Marcos, no doubt, Larry Brock is surrounded by shoes . . . A shoe for every purpose and a purpose for every shoe. IronMind® | Photo courtesy of Francis Brebner.

Alva Highland Games by Francis Brebner

At the Alva Highland Games, held in the beautiful rural mountain setting of Stirlingshire, the crowd of 8,000 was entertained by a top line-up of international heavy athletes yesterday. Sean Betz, Larry Brock, Will Baron, and Mike Zolkiewicz headed up the American representation, while from Scotland, Bruce Aitken and Bruce Robb shared the top billing, along with Aaron Neighbour from Australia and Darius Slowik from Poland/Canada.

In the first event, the open 16-lb. shot, Australia's Aaron Neighbour made a great putt of 53' 5" that claimed first place, with big Scotsman Bruce Robb hot on his heels with a 52' 7" putt for second, and Betz in the third spot with 51' 0".

However, in the 22-lb. shot, Sean Betz, with an awesome putt of 44' 5", nailed first place, nudging Robb into second place with 43' 5" and Neighbour into third with 43' 2".

In the 28-lb. weight for distance, both Betz and Brock were in a league of their own, with Betz taking the win with a throw of 86' 2" and Brock in second with 85' 5"; Robb was in third with 80' 6".

In the 16-lb. hammer, it was a close tussle between the top three hammer throwers in the world, with Betz coming out on top with a throw of 140' 6" and again Brock just behind by the narrowest of margins with a distance of 139' 0"; in third was Aitken with 137' 3".

In the 22-lb. hammer, Aitken led with a world-class throw of 118' 9" that took first place in his specialised event, with Brock in second with 116" 7" and Betz in third with 113' 7".

The next event saw a mighty caber being brought out, and at 18' and 175-lb., this brute was going to be no easy stick to turn, with the outcome being judged on degrees. Bruce Robb and Mike Zolkiewicz tied for first place with 75 degrees, leaving Brock and Betz tied for third at 70 degrees, and Will Barron and Aaron Neighbour tied for fifth equal.

In the last event, the 56-lb. weight over the bar, Poland's Darius Slowik shared first place with Mike Zolkiewicz at a height of 15' 7", with Betz clearing 15' for third, leaving Aitken, Brock, Robb, and Neighbour in a tie at 14'.

The overall placings were: first, Sean Betz; second, Bruce Robb; and third, Larry Brock.

Betz and Brock said they were both happy with their performances: "We are now looking forward to the Stirling Highland Games, the next Games on the circuit which are to held near to the famous Stirling Castle on Sunday, and from there we head straight to the ferry to journey over to Antrim in Ireland for a televised championships filmed by the Ireland BBC."