Sean Betz: Victori(a)ous in British Columbia
Sean Betz: Victori(a)ous in British Columbia

Sean Betz is continuing to show good form early in the 2011 Highland Games season and the 2008 world champion, added another victory to his collection when he won in Victoria, British Columbia last weekend.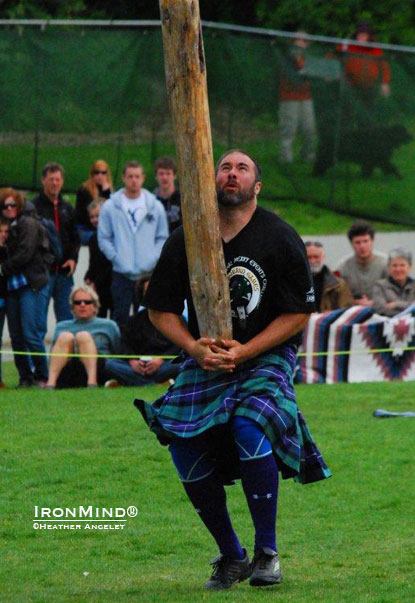 Sean Betz didn't win the caber, but he won just about everything else, including the overall title, at the 146th Victoria Highland Games. IronMind® | Heather Ancelet photo.


2011 Victoria Highland Games
by Francis Brebner

The 148th Victoria Highland Games last weekend attracted over 10,000 spectators to this year's international competition, which included a star-studded lineup of Sean Betz, Greg Hadley, Matt Doherty, Ryan Vierra, Larry Brock, Rob Young, Greg Bell, and Christoph Wand.

Betz was on form throughout the weekend, managing a clean sweep of all the events except for two, with Canadian Doherty also putting in a solid performance throughout.

In the 26-lb. Braemar stone, it was a very close event between Betz and Doherty, who is renowned for his stone putting. Despite this, Betz came out on top with the winning put of 36' 10-3/4". In a close second place was Doherty at 36' 2-3/4", followed by fellow Canadian Hadley in third place with 35' 2-3/4".

In the 56-lb. weight for distance, Betz notched his second win with a distance of 42' 10-1/4"; in second place was Vierra at 41' 8-1/4" and in third Doherty 39' 8".

The 16-lb. light hammer brought out some terrific throwing by Betz, who once again added a win with a distance 135' 10-3/4". Hadley came in second at 129' 4-1/2" and Doherty this time was in third at 129' 3/4".

The 56-lb. weight over the bar was done in the traditional style and was won by Betz with a world-class height of 16'. Doherty took second at 15' and Hadley third at 14'.

The concluding event of the first day was the caber toss, which was 20' in length and weighed 148 lb. This big stick proved no problem for Vierra, who slammed home the winning toss of 11:50. Hadley followed in second with a toss of 10:55, and Brock landed in third place with an 87-degree attempt.

The second day got off to a great start once again for Betz, with a put of 49' 1-1/2" in the 18-lb. open stone. Doherty took second with 48' 6" and Vierra third with 46' 1-1/12".

The 28-lb. weight for distance was a clear win for Betz, who was the only athlete over 80' at a winning distance of 86' 2". In second place was Vierra with 79' 11" and in third, Brock at 77' 10-1/2".

The last event—the 22-lb. hammer—was won by Betz with a throw of 103' 6". Hadley came in second place with 102' 9-1/2" and Doherty third place with 101' 5-1/4". Betz took three extra throws and improved his distance to 110' 10-1/4".

Overall points:
| | | |
| --- | --- | --- |
| 1. | Sean Betz | 11.0 |
| 2. | Matt Doherty | 24.0 |
| 3. | Greg Hadley | 26.0 |
| 4. | Ryan Vierra | 31.5 |
| 5. | Larry Brock | 39.0 |
| 6. | Greg Bell | 45.5 |
| 7. | Rob Young | 52.0 |
| 8. | Christoph Wand | 59.0 |
###


The IronMind Forum: discuss this article, talk strength, get help with your training.

You can also follow IronMind on Twitter.