Scottish Athletes and Special Forces: Eric Frasure and Chris Chafin Visit Fort Bragg
"A while back I was contacted by a Captain/Chaplain attached to the 3rd Special Forces Group in Fort Bragg, North Carolina," Steve Conway told IronMind®. "He was interested in incorporating some Scottish heavy events in a training exercise and was looking for some help."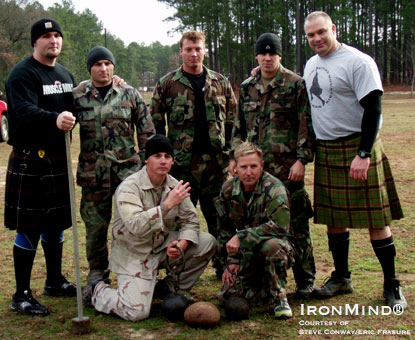 Scottish Athletes and Special Forces: Eric Frasure and Chris Chafin visited Fort Bragg. IronMind® | Photo courtesy of Steve Conway/Eric Frasure.


These days, Steve Conway might be best known as the athletic chairman for the San Francisco Caledonian Club, hosts of what is informally called the Pleasanton Highland Games - one of the world's premier Highland Gatherings. But Steve Conway is also an Army infantry combat veteran, so it's not surprising that he said, "I was more than happy to help him out, but unfortunately I live on the West Coast. In no time at all and a few emails later, Chris Chafin and Eric Frasure had volunteered to help out."

"Chris is a sergeant in a North Carolina police department and Eric [in addition to being one of the world's top Highland Games competitors] is a personal trainer who had recently formed a group called 'Strength for Charity.'

"It was a daylong event that combined various kinds of strength exercises with lessons in morality and ethics. It's an interesting approach to producing a well-rounded breed of fighter, sort of a thinking man's warrior," continued Conway.

"After getting up at 4:00 a.m., Chris and Eric drove to Fort Bragg to meet with the troops. They coached them through the Braemar stone toss, the 28-lb. weight for distance and the 16-lb. hammer, and also got to watch the soldiers in hand-to-hand combat, sword fighting and weightlifting. Both Chris and Eric are built like typical heavy events athletes (large) but they were absolutely impressed by the strength and spirit of the Special Forces soldiers, not to mention the intelligence and humility that they exhibited. I know they went there with the idea of giving what they could to help out with our soldiers, but ultimately they came away with more than they gave.

"Happy Holidays to all our soldiers that give their all for the rest of us!," Conway said, capturing the spirit of the day.
Eric made a couple of videos that you can see by clicking here and here.