Scott Rider Wins the Crieff Highland Games
Leave it to England's Scott Rider to win not just one of the top Highland Games in Scotland, but the one that's also the Scottish Championships.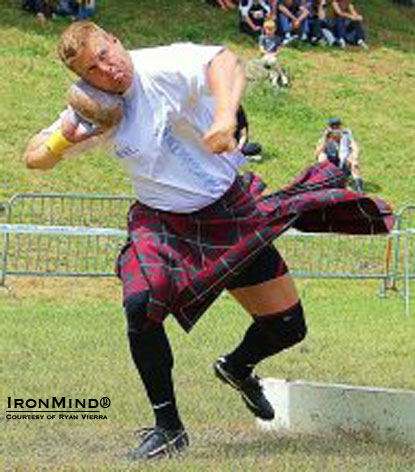 Scott Rider won the Crieff Highland Games and he is looking to be headed toward top form for the upcoming IHGF Highland Games World Championships. IronMind® | Photo courtesy of Ryan Vierra.


2011 Crieff Highland Games

by Francis Brebner

The Crieff Highland Games, which is one of the premier Highland Games in Scotland and is also the home of the Scottish Championships, had one of the biggest international lineups of leading heavy events athletes: Sebastian Wenta, Lucas Wenta, Scott Rider, Craig Sinclair, Gregor Edmunds, Ryan Vierra, Rusty Price, Gene Flynn, John McLeod. 

The athletes went all out in each event, the thousands of spectators were riveted to the spot watching and they were endlessly cheering the athletes on throughout the entire competition.
Scott Rider clearly come into this competition well prepared and put up one of his greatest performances ever all-around.

In the 16-lb. open shot, some of the throws looked as if they could have been fired from cannons–they were being putted so far. Lucas Wenta looked unstoppable in this event, ripping out a world class putt of 59' ½ " for the win. Second place was Scott Rider with a sensational put also of 57' 6" and third place went to Sebastian Wenta at 56' 2"

Action in the 22-lb. shot got even more exciting as the top three athletes once again had only inches between each other: Lucas once again claimed the win, with a putt of 48' 6". S econd place was Sebastian with 47' 1", third was scott Rider with 47' '½ ".

The 28-lb. weight for distance was completely dominated by England's Scott Rider who produced a series of majestic throwing, winning with a distance of 85' 1½". Ryan Vierra, with 80' 10", was second, and in third place and a real shocker was Scotland's Gregor Edmunds, who only recently at the start of the Scottish Games season recorded a world record throw by the SHGA in the 28-lb. weight with a colossal throw of 95' 10" but here could only manage a mere 80' 2½".

The 16-lb. hammer was a hard fought event with Rusty Price barely snatching the win with a throw of 132' 5" over Scott Rider, who threw 131' 5½". Craig Sinclair was third, with 130'.

The 22-lb. hammer saw Scotland's number one hammer thrower, Craig Sinclair, come alive with an awesome throw of 115' for the win. Second place was Rusty Price with 111' 7" and squeezing into third place was Gregor Edmunds with 110' 2".

The 56-lb. weight over the bar was won by Lucas Wenta with a height of 16'; second equal were Rusty Price, Sebastian Wenta, Scott Rider at a height of 15 '6".

The caber was the final event and it was England's Scott Rider who won with a toss of 11:50; second Gregor Edmunds with 11:45, and third was Sebastian Wenta, with 11:40

Overall points:
| | | |
| --- | --- | --- |
| 1. | Scott Rider | 32.0 |
| 2. | Lucas Wenta | 23.5 |
| 3. | Rusty Price, Gregor Edmunds (tie) | 23.0 |
| 4. | Sebastian Wenta | 22.0 |
| 5. | Craig Sinclair | 15.0 |
| 6. | Ryan Vierra | na |
| 7. | Gene Flynn | na |
| 8. | John McLeod | na |

###

The IronMind Forum: discuss this article, talk strength, get help with your training.

You can also follow IronMind on Twitter.