Scott Rider Wins the Aboyne Highland Games
Edging out Craig Sinclair by one point, Scott Rider maintained his momentum as he won the Aboyne Highland Games this past weekend, with Francis Brebner calling the action for IronMind.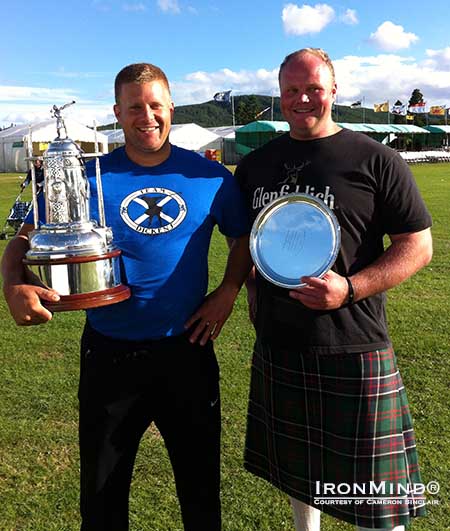 Scott Rider (l.) with the Dinnie Challenge Trophy for the most points, and Craig Sinclair (r.) with the Dan Findlay Memorial Trophy for winning the 56-lb. weight-over-bar. Photo by Cameron Sinclair.


2013 Aboyne Highland Games
by Francis Brebner

The Aboyne Highland Games this past weekend attracted nearly 8,000 spectators and was officially opened by The Most Honourable The Marquis of Huntly. Top heavy athletes making up the field included Scotland's Craig Sinclair, Grant Sinclair, Bruce Robb, Lorne Colthart, and Sinclair Patience; England's Scott Rider; and Australia's Aaron Neighbour.

With sunny skies and a stiff breeze, the athletes put up a top performance, with the main duo, Scotland's Craig Sinclair and England's Scott Rider, dueling for the title and producing some excellent all-round throwing.

In the 22-lb. open stone, Rider took the first win with a putt of 44' 7". Second place was a tussle for inches, with Patience besting Sinclair, 42' 10" to 42' 7.5".

In the 16-lb. open stone, Rider slammed the win with a putt of 57' 5 1/2". C. Sinclair claimed second place at 50' 5" and Neighbour followed in third at 49' 8".

In the 16-lb. hammer C. Sinclair went all out in his specialized event with a throw of 130' 9" for first place. Second was Colthart at 126' 6" and third Rider at 125' 8".

C. Sinclair again showed great form in the 22-lb. hammer, winning the event by nearly three meters over his nearest rivals with a throw of 110' 4". Rider placed second with 99' 6" and Patience was third at 95' 11".

After four events C. Sinclair and Rider were tied on points, each garnering two wins. They battled heartily in the 28-lb. weight-for-distance, with Rider taking the win at 82' 3". C. Sinclair was second at 81' and Patience third at 77' 3 1/2".

The 56-lb. weight-for-distance was another close event, ending with C. Sinclair and Robb in a tie at 41' 4''; in third place was Rider at 40' 1".

The caber, 19' long and 120 lb., was won by Rider with a perfect 12 o'clock toss. Robb was second at 12:05, and C. Sinclair and Colthart third equal at 12:10.

Going into the final event, the weight-over-bar, Rider was in the lead by two points—but that did not deter C. Sinclair from giving his all and pulling out a personal best 16' for the win. Rider was second at 15' 6" and third equal were Robb and Patience at 15'.

Top three:
| | | |
| --- | --- | --- |
| 1. | Scott Rider | 42.0 |
| 2. | Craig Sinclair | 41.0 |
| 3. | Sinclair Patience | 29.5 |



 #

Want to talk strength? Join the IronMind Forum.

You can also follow IronMind on Twitter and on Facebook.