Scott Farr Wins IHGF Lightweight World Highland Games Championships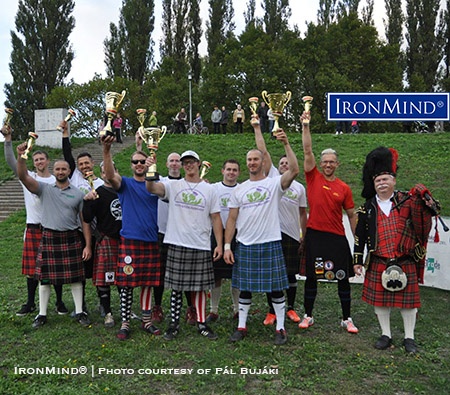 The USA swept the podium at the 2015 IHGF Lightweight World Highland Games Championships in Győr, Hungary, led by overall winner Scott Farr.



2015 IHGF Lightweight World Highland Games Championships 

by Francis Brebner
International Federation of Highland Games (IHGF)

    
The 2015 IHGF Lightweight World Championships (under 200-lb. class), held recently in Győr, Hungary, presented a new champion, Scott Farr (USA). Farr competed in a field of 11 top-ranked lightweight athletes, including USA's Jon Dahlin, Phil Sansotta,  Jeffrey Thornton, and John Odden; Romania's Stefan Dumitrica; Scotland's James Dawkins; Austria's Lukas Prettenthaler; Germany's Torsten Hülseman; Canada's Bryan MacLean; and Hungary's László Szalai, the best representation at the IHGF Lightweight World Championships to date.

In the 22-lb. Braemar stone, Farr was looking good in warm-ups and secured the first victory with a putt of 34' 3", with Dumitrica following closely at 32' 11". Third was Sansotta with a noble putt of 31' 10".

In the open stone, Dumitrica unleashed a series of class putts to win with a distance of 44' 3-3/4". Second place was a close tussle, with Farr edging out Hülseman with a best of 43' 3" to third-place 43' 1-3/4".

In the heavy weight for distance, Odden was a favorite to clinch the win but had serious competition from Farr from the very first round, which ended with Farr claiming the victory by a whisker at 43' 11-3/4" to Odden's second-place 43' 11-1/2". Sansotta took third at 37' 5-3/4".

In the 28-lb. weight for distance, the slug fest continued between Farr and Odden, with Farr pulling out a world-class throw of 75' 5" for another win. Second was Odden with 73' 3/4" and third, Sansotta at 66".

Farr was now in a comfortable position with three wins out of four and with his better events in the hammers to come, but he would have to face Dawkins, the world record holder in both 16-lb. and 22-lb. hammers.

Dawkins took control in the first round of the 22-lb. hammer, unleashing a crushing series of throws and a best of 116' 4". Farr's best was 111' 10" for second, with Odden in third at 109' 10". Dawkins added back-to-back wins in the 16-lb. hammer as well.

The weight-over-bar came down to a tie between Farr, Odden and Sansotta, all clearing at 16' 4" to share some valuable points going into the last event with the caber.

The caber was heavy (115-lb.) and brutal, with not much of a taper and proved a real challenge as only 3 of the 11 athletes were able turn it. Odden won with a perfect 12:00 toss, followed by Farr at 12:10 and Sansotta at 12:30.

Final placings:

1. Scott Farr (USA)
2. Phil Sansotta (USA)
3.  John Odden (USA)
4. Stefan Dumitrica (Romania)
5. Jeffrey Thornton (USA)
6. Torsten Hülseman (Germany)
7. Jon Dahlin (USA)
8. James Dawkins (Scotland)
9. Lukas Prettenthaler (Austria)
10. Bryan MacLean (Canada)
11. László Szalai (Hungary)

Adam Darazs, CEO of the IHGF, said the entire championships were filmed for TV in Europe. He is looking to expand the IHGF Highland Games Championships and Stones of Strength events in Hungary and also to neighboring countries in Europe, noting, "This is very exciting times we have planned for the future of the sport."

                                                     ###



You can also follow IronMind on Twitter and on Facebook.                        



Want to talk strength?  Join the IronMind Forum.