Scott Chisholm Cleans Up at the Spokane Highland Games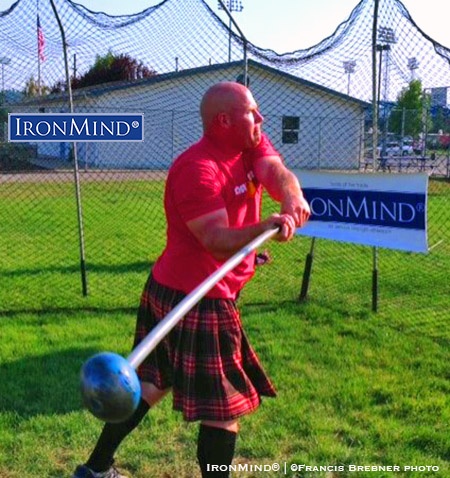 Along with winning the men's amateur A division at the Spokane Highland Games, Scott Chisholm qualified for the IHGF All-American Highland Games Finals.



2016 Spokane Highland Games: Chisholm Takes Win, Goes to Finals
by Francis Brebner
President, International Federation of Highland Games (IHGF)
 
The 60th annual Spokane Highland Games attracted nearly 60 athletes for one day of competition, from novice men's and women's, to masters and amateur men's A and B divisions. Eight field records were broken across the groups, and the competition was the last qualifying leg among Amateur A athletes in the 2016 IHGF All-American Highland Games Series. Two spots will be filled at the IHGF All-American Highland Games Finals, hosted by the McPherson Highland Games in mid-September, where one athlete will be crowned champion and compete in the 2017 IHGF World Amateur Highland Games Championships.
 
The 22-lb. Braemar stone was a ding-dong battle between Scott Chisholm and Alex Jeffrey with Chisholm prevailing with a put of 37'. In a close second was Jeffrey with 36' 1-1/2". Third place was Andrew Heaton at 32' 8".

In the 16-lb. open stone, Chisholm kicked it up a gear and won the event with a put of 45' 2". Second was Jeffrey at 45' 11", with Heaton third at 38' 6".

In the 56-lb. weight-for-distance, Heaton opened with a leading throw and improved every round, finishing with a winning distance of 35' 1-1/2". Chisholm took second at 33' 1-3/4" and Jeffrey third at 31' 1".

Heaton and Jeffrey battled in the 28-lb. light weight-for-distance, with Jeffrey overtaking Heaton on his final attempt with 68' 5". Heaton finished second at 66' 11" and Chisholm trailed in third at 63' 5".
 
The next two events, the heavy and light hammer, were for the IHGF All-American Hammer Throwing Championships. In the 22-lb. hammer, Chisholm, looking smooth and fast in his winds, let rip with a series of throws all over 90', with a best of 96' 4" for the win. Second place went to Jeffrey at 86' 2-1/2" and third to Heaton at 77' 10".
 
In the 16-lb. hammer, Chisholm kept up his winning streak with a distance of 116' 1" to claim the overall IHGF All-American Hammer Throwing Championships title. Second-place Jeffrey threw 107' 4", followed by Heaton at 96' 11".
 
In the 56-lb. weight-over-bar, the big man Heaton, at 6' 9" tall, breezed away with the win at a height of 15'. In second place was Chisholm at 14' and Nathaniel Cook took third at 14' on countback.

The 20-lb. sheaf was a battle between Heaton and Cook, reaching a height of 24' with Heaton taking the win with fewer misses. Cook was second at 24' on countback and Chisholm third at 20'.
 
Asking Scott Chisholm about his overall performance in qualifying for the IHGF All-American Highland Games Championships, Chisholm said, "I'm pretty excited. I can't wait for McPherson. I missed it last year so I'm happy to come back this year."
 
A special mention to Sean Pelfrey and his team for their incredible work in putting together a memorable games and making it so enjoyable for all the athletes from start to finish, with exceptional hospitality to all.
 
Men's Amateur A final points:


| | | |
| --- | --- | --- |
| 1. | Scott Chisholm | 14 |
| 2. | Andrew Heaton | 18 |
| 3. | Alex Jeffrey | 21 |
| 4. | Nathaniel Cook | 31 |
| 5. | Tim Dommek | 38.5 |
| 6. | Jacob Masterson | 45.5 |


 
                                      ###



You can also follow IronMind on Twitter and on Facebook.                        



Want to talk grip, strongman, weightlifting . . . everything strength? Visit the IronMind Forum.