Scitec European Strongest Team Series Kicks Off in Slovakia

"A new strongman team series made its debut last weekend in the city of Dunajska Streda, Slovakia," Francis Brebner reported to IronMind.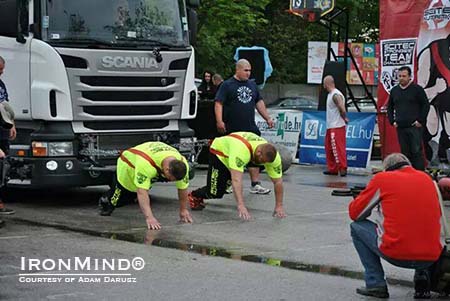 The Truck Pull was one the classic strongman events modified for the team format used in the Scitec European Strongest Team Challenge. IronMind® | Photo courtesy of Adam Darusz


"Eight teams took part from all over Europe, including Poland, Slovakia, Sweden, Hungary, Ukraine, Georgia, and Croatia, with two teams from Slovakia. The cold weather and rain did not dampen the spirits of the spectators, who traveled from near and far to watch the first of the European strongman series get underway.

"Kicking off the contest was the two-man harness truck pull, with the 17-ton truck pulled a distance of 18 m in the fastest time possible. Team Poland dominated with a winning time 21.99 seconds. Second place was tight with Team A Slovakia clocking 24.20 seconds to third-place Team Sweden's 24.30 seconds .

"In the two-man log lift for reps, 240 kg were lifted from the ground to overhead and back to the ground, and the athletes had 60 seconds to complete as many reps as possible. Team A Slovakia prevailed, banging out 8 reps. Team Sweden was second with 7 reps, and third place was a tie between Team Poland and Team Ukraine at 5 reps each. Unfortunately Konstantine Janashia of Team Georgia sustained an injury, breaking two fingers, but like a true warrior, he soldiered on.

"In the two-man 460-kg frame carry over a course of 40 m, again Team Poland pulled off a second victory with a time of 15.03 seconds. In second place was Team Ukraine with 16.70, followed closely by Team A Slovakia with 17.83 seconds.

"The Iceland cross, based on an event from a Magnus ver Magnusson contest, weighed 130-kg. Similar to carrying the Husafell stone, with the cross there is more latitude when cradling the cross in the arms. Team Poland won easily with a combined distance of 80.51 m, followed by Team B Slovakia and Team Sweden respectively.

"The last two events of the competition were individual, with one athlete from each team selected for the deadlift and the Atlas Stones. The 320-kg deadlift for reps was won by Mateusz Baron of Poland with 10 reps in just under 27 seconds. Second, despite his broken fingers, was Janashia of Team Georgia with 8 reps, and third, Peter Puzsér of Team A Slovakia with 6 reps.

"The final event was the Atlas stones, weighing from 146 kg to a whopping 172 kg, which had to be lifted onto a platform of 122 cm in the fastest time possible. Joachim Gustavsson of Team Sweden won the event in 15.73 seconds. Rafal Kobylarz of Team Poland placed second at 29.43 seconds, and Igor Petrik of Team B Slovakia was third.

Overall results
1. Team Poland (Mateusz Baron – Rafal Kobylarz) 44.5 points
2. Team A Slovakia (Peter Puzsér – Piros Ferenc) 36
3. Team Sweden (David Nystrom – Joachim Gustavsson) 33
4. Team Hungary (Gábor Hrozik – János Sebestyén) 25
5. Team Ukraine (Volodimir Reksha – Vitaly Mihaev) 24.5
6. Team B Slovakia (Igor Petrik – Dávid Nagy) 23
7. Team Georgia (Konstantine Janashia – Giorgi Donjashvili) 17
8. Team Croatia (Vilijam Ded – Ivan Medimurec) 5

"Adam Darusz, athletic director and promoter, was happy with the high level of competition in the first stage of the European Strongest Team series and with the warm reception from the large turnout of spectators. The next venue will be staged in mid-July, with the last of the series to conclude on 26 September at the Arnold Classic Europe in Madrid, Spain," reported Brebner.


###



Want to talk strength? Join the IronMind Forum.

You can also follow IronMind on Twitter and on Facebook.