Schoonie Eyes World Record
Pasadena, California - The strongman contest at the FitExpo begins today and rumors are flying that Brian Schoonveld is ready to attack the world record in the IronMind® Apollon's Axle™, a signature event in the strongman world.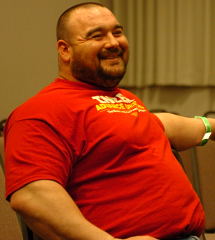 Brian Schoonveld relaxes yesterday at the Odd Haugen-Josh Bryant strongman seminar at the FitExpo. IronMind® | Randall J. Strossen, Ph.D. photo.
Schoonie is weighing around 360 pounds, looking strong and feeling confident. There is talk that his first attempt on the Apollon's Axle™ might be at or above the world record, which is currently held by Hugo Girard and stands at 175 kg (385 pounds).

This strongman contest is reportedly the first in history to feature a farmer's walk with over 400 pounds per hand (!), and it is a qualifier for the upcoming World's Strongest Man Super Series event at Muscle Beach (Venice, California), which, in turn, is a qualifier for the 2005 World's Strongest Man contest.