Thanks to the efforts of Roger Davis, efforts to rescue the Fianna Stone are getting traction - if you care about this most magnificent testing stone and would like to do something to safeguard it, now is the time to act.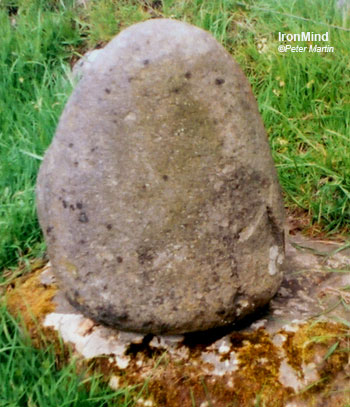 History you can touch and if you're equal to the task, handle: the mighty testing stone of the Fianna. Save this stone! IronMind® | Peter Martin photo.

Roger Davis credits the book Of Stones and Strength by Steve Jeck and Peter Martin with bringing this magnificent stone into more general public awareness. Jeck and Martin wrote that, "In the days of the Fianna, any young man wishing to join this elite band of warriors had to lift the testing stone . . . ." Jeck and Martin also noted that, " . . . to the unknowing public [it] is just another boulder . . . but it . . . was the gateway to many a young man's destiny." Sadly, because of the former situation, its much grander past and future role are now imperiled.

Featured many times in MILO, this treasured testing stone was moved from its location and in an effort to secure its safety, Roger Davis has enlisted the aid of Mr. Doug Gillon, a reporter at the "'The Herald,' which is one of the main Scottish newspapers."

Roger Davis noted that, "Without wanting to sound like a 'mad man,' when a person has lifted a stone with the history of the Fianna or Inver stone, they feel bonded to both the stone and the location in a very special way, and the removal of such a stone prevents future generations from feeling the same exultation and sense of pride at lifting a true Scottish manhood stone."

If you share this passion, then please take a moment and send an email to Mr. Doug Gillon, at "The Herald"
(doug.gillon@theherald.co.uk ) letting him know how important you feel it is that this stone be returned and its future safety ensured.