Busan, Korea - Sa Jae-Hyuk (Korea) gave his fans plenty to be happy about at the Junior World Weightlifting Championships tonight.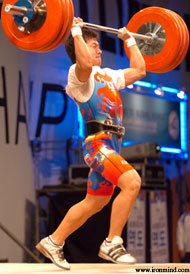 Sa Jae-Hyuk drives himself under the 179-kg jerk that gave him the gold medals in the both the clean and jerk, and the total. IronMind® | Randall J. Strossen, Ph.D. photo.

Yao Yuewei (China) won the snatch, with 151 kg, but Mete Binay (Turkey) was right on his heels with 150 and he was lighter. Sa sat in third place with 145.

Yao lost a lot of ground in the clean and jerk when he opened with a good lift at 165, but missed the jerk twice on 170.

Mehmed Fikretov (Bulgaria) was in twelfth place after the snatches, having only made his opener of 130 kg, but talk about a guy who could move through the field: He cleaned and jerked 168, 172 and then 177 to get the silver medal in the jerk and ended up fourth in the total. And talk about unorthodox: Fikretov actually jumps forward on his cleans, jerks from an extremely arched, full-chest position, plus he power jerks with a very wide hand spacing - and it all obviously works for him.

Binay opened with 170 in the clean and jerk, for a smooth clean and a good jerk. He made 173 on his second attempt, but had to chase the jerk a bit to save it, and when he tried to do the same thing with 175 on his third, he wasn't successful.

After making 172 on his opener, Sa had sat it out until everyone else was done, and then he called for the 179 kg he needed to bag the told medals in both the jerk and the total. There was no doubt about this lift - he hit it out of the park, and feeling strong, he called for 188 on his third, in an effort to break the junior world record in the clean and jerk, but after a solid clean, he missed the jerk over his head.

This was a great night for our Korean hosts, who are putting on a tremendous Junior World Championships.