SCL–Holland: Zydrunas Savickas Gets First Win in 2013 and "Thor" Gets a World Record
Zydrunas Savickas made his 2013 season debut most impressive as he attacked his own world record in the log lift and managed to hold off the Icelandic freight train known as Hafthor Julius Bjornsson for the victory—but not before "Thor" notched a world record of his own.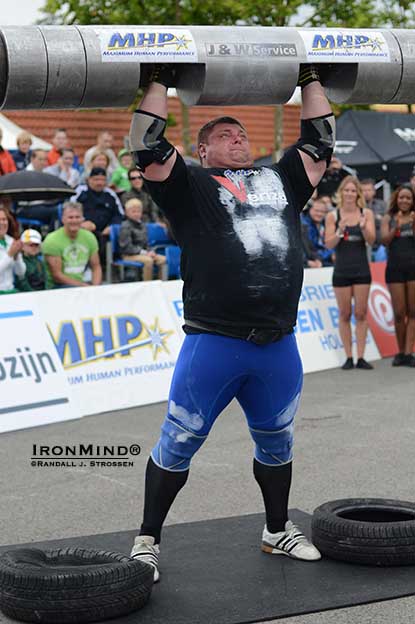 Zydrunas Savickas opened his 2012 strongman season with a world record attempt in the Log Lift at the MHP Strongman Champions League–Holland and you can see how close he came to succeeding with the 221-kg lift. IronMind® | Randall J. Strossen photo.


"The first competition from Zydrunas and again he made his victory, although it was only 1 point ahead of "Thor," commented Marcel Mostert. 

"Thor won 4 out of 6 events, he was fired up and tried to win overall in the Atlas Stones, the last event. Because of that he won the Atlas Stones in a great new world record of 18.31 seconds with 5 stones of 120/140/160/170/180 kg on a high wall like World's Strongest Man.

"Zydrunas did try a new world record on the log lift with 221 kg, but just failed in the last 10 cm, although he showed that he will break it this year for sure. I think he will end with 227.5 kg this year. Phenomenal.

"Krzystof Radzikowski, the MHP/SCL leader, got 3rd place overall and gained again SCL points for his leadership. He was happy with the result as the athletes all said that this was a very heavy event in Holland.

"Danis Zageris from Latvia got 4th place and Alex Moonen from Holland got 5th place. He was very happy with that as it was his best place so far in the MHP Strongman Champions League

"Unfortunately, Misha Koklyaev couldn't be on time as had problems with his visa. Ervin Katona and Jan Wagenaar fell out due injury in the competition," said Mostert.

Final Scores (top 10)

| | | |
| --- | --- | --- |
| 1. | Zydrunas Savickas (Lithuania) | 77.0 |
| 2. | Hafthor Julius Bjornsson (Iceland) | 76.0 |
| 3. | Krzysztof Radzikowski (Poland) | 68.0 |
| 4. | Dainis Zageris (Latvia) | 58.0 |
| 5. | Alex Moonen (Holland) | 54.5 |
| 6. | Lauri Nami (Estonia) | 52.5 |
| 7. | Jitse Kramer (Holland) | 44.0 |
| 8. | Jimmy Laureys (Belgium) | 42.0 |
| 9. | Gerald Gschiel (Austria) | 42.0 |
| 10. | Matt Wanat (USA) | 34.0 |
"Next stage: SCL Portugal at 27/28 July, and for the fans, the SCL Latvia can be seen on Eurosport for the first time at Tuesday 2 July at 22.00 hours," said Mostert.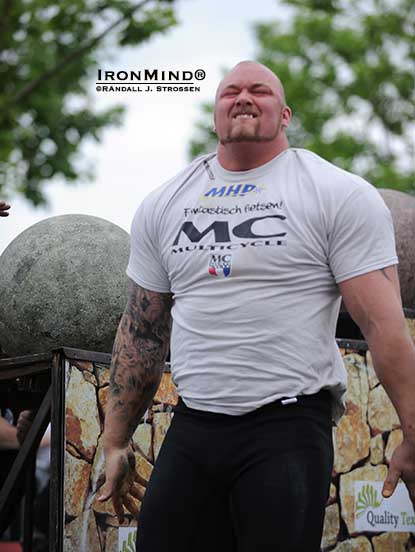 Hafthor Julius Bjornsson blistered the Atlas Stones in world record time—was this matchup between "Thor" and Zydrunas a foretaste of what's coming up at the World's Strongest Man contest later this year? IronMInd® | Randall J. Strossen photo

###

Visit the IronMind Forum: talk strength, discuss this story. Strongman, grip, Highland Games, Olympic lifting, stones and more.

You can also follow IronMind on Twitter and on Facebook.