SCL Strongman at the FIBO
Looking toward the FIBO show in Essen, Germany, Strongman Champions League's Marcel Mostert told IronMind, "We are ready for the next stage on 16 April!"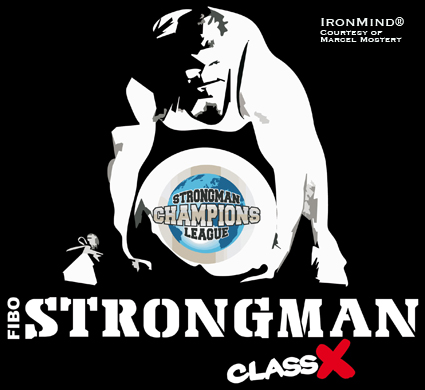 Strongman Champions League continues its 2011 season with a strongman contest at FIBO, the world's largest fitness expo. IronMind® | Courtesy of Marcel Mostert.


After the coldness in Lapland, the whole SCL team will strike down in Germany at the FIBO 2011. This is the biggest expo in the world for fitness equipment, clothes, supplements, etc. All kind of sports will be there, including the Strongman Champions League.

"With the great help of the German strongman federation, GFSA, and its president, Heinz Ollesch, and the main sponsor Monster Milk, we are sure that the SCL FIBO will be a fantastic event again.

"Just look to the start list, and you know it will be good already!," Mostert said.
Here it is the official start list for SCL-Germany:

• Zydrunas Savickas (Lithuania)
• Terry Hollands (UK)
• Gregor Stegnar (Slovenia)
• Martin Wildauer (Austria)
• Patrik Baboumain (Germany)
• Jarno Hams (Holland)
• Igor Werner (Germany)
• Ervin Katona (Serbia)
• Juan Carlos Herredia (Spain)
• Etienne Smit (South Africa)
• Travis Ortmayer (USA)
• Jimmy Laureys
• Konstantin Ilin (Ukraine)
"It's the fifth time I organise the FIBO Strongman ClassX and the second time it's a Champions League Contest," president of the German strongman federation and head of the Strongman-Project Heinz Ollesch told IronMind. "The FIBO is huge and the FIBO-Power is a must for all strength, fitness, bodybuilding and figthing fans.

"The FIBO-Power is the biggest expo for strength sports and bodybuilding in Europe, and the FIBO is the biggest Fitness and Wellnes Expo in the world. Both are combined in 12 Expo halls, so it is very big," said Ollesch.

"I am proud to be a part of it and strongman is getting bigger every year. I am working on it nearly year round, but most work is now, shortly before.
During the year, it's mostly getting sponsors.

"We have a very strong athletes field, including World's Strongest Man winner Zydrunas Savickas, and there will be 6 events:

• Giant Log for max. weight (it will be a wooden log, 36-cm diameter)
• Bavarian Stonelift
• Wheelbarrow
• Medley with Yoke and Sack Loading
• Giant Dumbbell
• Stones of Strength
"So, all fans in Europe and around the world, the biggest and strongest man, world class bodybuilders, the hottest bikini and fitness girls, and much much
more are waiting for you at the FIBO in Essen," Ollesch said.
###



Want to comment on this article or just want to talk strength? Join the IronMind Forum!

You can also follow IronMind on Twitter.