SCL Holland - Big Field, Fresh Format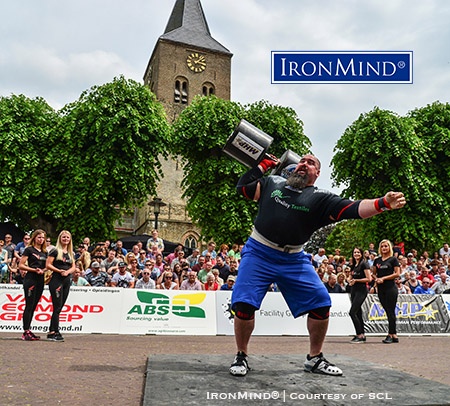 The MLO Strongman Champions League (SCL) Holland is big on talent, with a field that includes guys over 2 meters tall, and watch for a new twist in the competition format.

On June 17 at 1 p.m (13.00) Lichtenvoorde, Holland is ready to welcome 14 top professional strongman competitors for SCL Holland, including Sean Hagan (212 cm tall) and Mika Tora (207 cm tall), who will be making his SCL debut.

The lineup also includes Graham Hicks (winner of the 2017 SCL Log Lifting World Championships) and the winners of SCL Holland 2016 (Eric Dawson) and SCL Holland 2015 (Grzegorz Szymanski).

"This is the fourth of 16 SCL stages and there will be pressure on Graham Hicks to maintain his coveted leader's shirt," SCL co-founder Marcel Mostert told IronMind.

Mostert and his partner, Ilkka Kinnunen, who have 25 years of experience in strongman, are introducing a new concept, a fresh format, featuring elimination rounds and team events. Mostert explains:

"After the third, fourth and fifth rounds, the bottom two athletes will be eliminated, and after the third round, we will do a drawing of the 12 athletes still in the contest at that point to make 6 teams.


"This brings elements of drama/good luck and bad luck/cooperation, as well, between rivals.

"In the fourth round we will do team events, which makes it all the more interesting, and after that we will do the last 2 events again as individuals.

"This will make for a more exciting competition, with nothing predictable like the top three always are in some strongman contests," Mostert said. "It is time to change the elements in this sport and SCL Holland is ready to rock!"


17th June /13.00 Hours - Lichtenvoorde

Start List for MLO Strongman Champions League Holland
1) Graham Hicks, England - World champion Log Lift 2017 / current Leader ranking 2017
1) Dainis Zageris, Latvia – World Champion SCL 2016
3) Eric Dawson, USA - Winner SCL Holland 2016 (title defender)
4) Matjaz Belsak, Slovenia - Winner SCL Germany 2017
5) Grzegorz Szymaski, Poland - Winner SCL Holland 2015
6) Alex Moonen, Holland - Dutch Champion 2016
7) Jitse Kramer, Holland - 2nd Holland Championships 2016
8) Dennis Kohlruss, Germany - 3rd SCL Germany 2017
9) Enzo Tauro, Holland - 3rd Holland Championships
10) Sean O Hagan, Ireland - Biggest strongman in the world / 212 Cm
11) Mika Torro, Finland - 2nd biggest strongman in the World / 207 cm
12) Jørgen Aukland, Norway - Strongest man Norway 2016
13) Marionchello, Curacao - Strongest man Curacao 2016
14) Lauri Nami, Estonia - Strongest man Estonia 2016

                                                        ###


 
You can also follow IronMind on Twitter, Instagram and on Facebook.                        



Want to talk grip, strongman, weightlifting . . . everything strength? Visit the IronMind Forum.