SCL Finals Moved to Sarajevo
"Due some unexpected political problems in the Ukraine we had to reschedule the SCL finals again," Marcel Mostert told IronMind today, "and we are set now for Sarajevo, in Bosnia."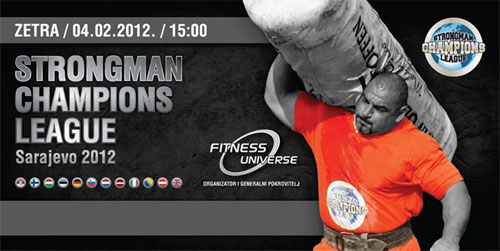 Ervin Katona has a chance to win the overall Strongman Champions League title, which carries a prize of US$15,000. IronMind® | Courtesy of SCL.


Explaining that time had been lost as SCL tried to keep things on track for the Ukraine, Mostert said this forced an accelerated pace in preparing for this competition, but all the pieces are now in place and "the most important thing is that we are doing it."

"It will happen one week later [than planned for the Ukraine], on February 4 in the Zetra Olympic Hall Juan Antonio Samaranch in Sarajevo.

"This hall was built for the 1984 Winter Olympic Games, and so far it is the largest facility of this type in Bosna and Herzegovina. We are happy that we could reschedule this so fast, with great help from our SCL organization in Bosnia.

"It will be a hard fight over 7 events with 12 finalists, especially between Zydrunas Savickas and Ervin Katona, because both can still win the title SCL World Champion 2011, powered by Monster Milk," said Mostert

Events
• Power Team Forward Hold
• Truck Pull
• Log lift
• Atlas Stones
• Wheel Flip
• Medley
• Car Dead lift

"Zydrunas Savickas, Andrus Murumets and Terry Hollands were the former overall champions in previous years. Will Ervin Katona finally succeed as well and join this impressive list? It's going to be exciting and all other athletes will earn double ranking points.

"The whole competition will be recorded and to be seen at 24 February at Eurosport," said Mostert, "with US$15000 for the overall champion, and another $15,000 for the competitors in this contest."

http://www.ironmind.com/ironmind/opencms/Articles/2011/Dec/2011_SCL_Finals-15000_for_the_Winner.html


Stay tuned for the results on IronMind and www.strongmancl.com

###



The IronMind Forum: discuss this article, talk strength, get help with your training.

You can also follow IronMind on Twitter.