SCL 90 and 105 kg Championships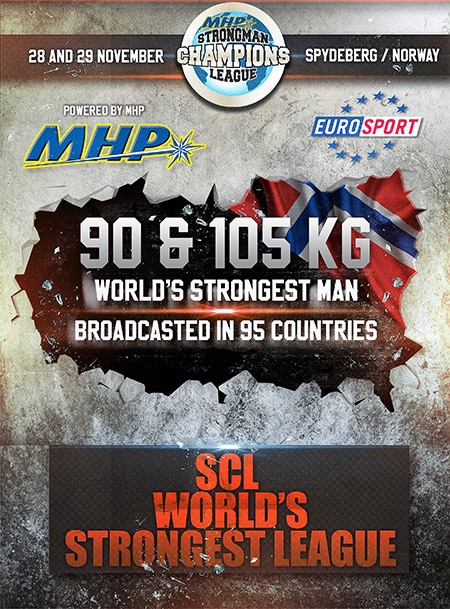 Strongman Champions League director Marcel Mostert told IronMind, "This coming weekend in Norway will be the stage for the 90 and 105 Kg  SCL World's Strongest Man."

"The strongest man in the world will be crowned after a battle of 2 days, with more than 70 athletes competing, and MHP Strongman Champions League will give the winner a place in one of their stages of the SCL World Series in 2016.


"This is a great step up for all future strongman, who begin and began their career as a strongman mostly in the gym and with light weights.
For them, this broadcasting platform is also a huge step forward to get well known and attract more sponsorships individually. This competition will be broadcast in more than 95 countries, so this will be record exposure for the these lighter strongman competitors.
 
"The following events will be done:
 
Saturday Qualifiers
 
1. Apollons Axle Reps         120kg    u90 Kg
                                             130kg  u105 Kg
 
2. Farmer's Walk 2x20m     125kg     u90 Kg
                                            130kg   u105 Kg
 
3. Tire Flip 6 flips                    350kg-    90kg
                                            400kg   105kg
 
 
Sunday: Top 12 Finals
 
1. Apollon's Axle- Max.    Start weight          130kg u 90 Kg
                                                                       140kg u105 Kg
 
2. Medley  - For 90 and 105 Kg class same.
 
3. Arm Over Arm 20 m. For 90 and 105 Kg class same.
 
4. Stones series.  Platform:  170-160-150-140-130 cm  
 
Stones: 100-120-130-140-170kg  -    u90 kg
Stones: 120-130-140-160-190kg   -  u150 kg
 
5. Car Deadlift for Reps    300kg    u90kg.
                                   330kg   u105kg.
 
 
"Stay tuned for the results on IronMind and watch for more photos on our website and Facebook from the MHP Strongman Champions League. Simply 'The World's Biggest League,'" said Mostert.
 
                                                                     ###



Follow IronMind on Twitter and on Facebook.


Want to talk strength? Visit the IronMind Forum: Strongman, grip, Highland Games, Olympic lifting, stones and more.