Ryan Vierra Wins at Pleasanton
Getting off to a strong start on the first day, Ryan Vierra never looked back and added his sixth US National Heavy Events title to his formidable collection of Highland Games victories.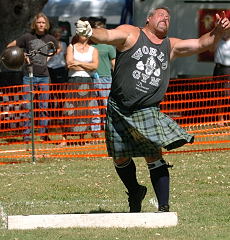 Ryan Vierra sends the 56 for distance on its way. IronMind® | Randall J. Strossen, Ph.D. photo.
After the first day, Vierra was followed by Dave Barron, in second, and Sean Betz, in third, and when the dust settled, Vierra was still the top dog, but James Parman had moved into the runner-up position and Dave Barron was third.

Vierra has been competing in this contest since the days when it was held in Santa Rosa, California, and fondly recalls his 1988 debut, when Brian Oldfield was winding down his career. Vierra is a three-time world champion in the Highland Games Heavy Events.