Rusty Price Wins the SHGA British Highland Games Championships
Rusty Price is racking up more wins on the Scottish Highland Games circuit–winning at Isle of Mull Highland Games in Tobermorey late last week and then over the weekend he added the SHGA British Highland Games Championships to his collection.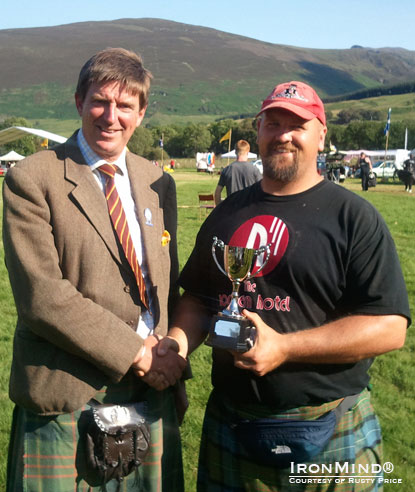 Ewan Cameron presents the trophy to winner Rusty Price, winner of the SHGA British Highland Games Championships. IronMind® | Photo courtesy of Rusty Price.


2011 British Highland Games Championships
By Francis Brebner

This weekend a major Highland Games competition took place in the picturesque setting of Lochearnhead, Scotland, which hosted the SHGA British Highland Games Championships, drawing a crowd of nearly three thousand spectators on a glorious, sunny day of competition.
The event included the gathering of the clans MacGregor, MacLaren and Stewart of Strathern, and over one hundred clan members took part in the march behind the magnificent local pipe band through Lochearnhead to the Games field.

A total of eight heavies took part in the competition, including USAs Mike Pockoski and Rusty Price, and Scotland's Craig Sinclair and Stuart Anderson, and young bloods of the sport Grant Sinclair (22), Lorne Colthart (21), and Dale Walker (21), along with German athlete Martin Tim Kuhne (21). This young pool of talent is a sure sign that there is no need to worry about a lack of Scottish heavy athletes for the future in Scotland.

The opening event, the 16-lb. shot put, was a close tussle between Pockoski and Price, with Price taking the win with a put of 53' 2". Pockoski placed second with 52' 5", with C. Sinclair in third at 48 3" and Colthart fourth with 44' 1".

In the 22-lb. shot, the winner was Price but this time by a clear margin with a put of 46' 9", which was also a personal best. In second place was Pockoski at 43' 6", in third C. Sinclair with 42' 11", and in fourth Colthart with 41' 9".

The 28-lb. weight for distance was a very exciting event to watch with C. Sinclair and Price going toe to toe, with C. Sinclair coming out the victor with a throw of 81' 10". Price placed second with a close 81' 5", followed by Pockoski in third at 79'11", and Colthart in fourth at 73' 8".

The 56-lb. weight-for-distance saw big numbers thrown all around, but Price rocked the field with a gigantic throw of 52' 5" for the win. Pockoski was second with 49' 5", C. Sinclair third at 48 '6", and Anderson fourth at 44' 1". It was later reported that the weight was actually several pounds underweight.

In the 16-lb. hammer, sparks were flying between three athletes, with Mike Pockoski, the current IHGF world hammer throwing champion, pulling out a superb throw of 145' for the win and a personal best. In second was Price with a noble effort of 139 '10"; in third came C. Sinclair at 137' 1", and in fourth Colthart with 126' 1".

As the 22-lb. hammer unfolded, Pockoski was clearly on form, once again winning the event by a clear margin with a crushing distance of 117' 2". C. Sinclair placed a respectable second at 110'7", with Price in third with 109' 10" and G. Sinclair in fourth with 90'.

Going into the last two events, it was very close in points between Price and Pockoski, with Price only one point ahead. The caber toss, with a caber weighing 145 lb. and 19' long, ended in a tie, with both athletes producing 12:00 tosses. In third place was C. Sinclair with a 1:00 toss.

The final event, the 56-lb. weight-over-bar, was to be the decider between the American duo for the overall prize. Price, Pockoski and C. Sinclair went all out, with it once again coming down to a tie at a height of 15' between Price and Pockoski; and Price winning the overall by one point. In third place was C. Sinclair with a height of 14', and in fourth place were Colthart and Anderson at 13'.

Asking Price how he felt about adding the national title of the British Highland Games Championships to a rapidly growing list, he said, "Mike and Craig pushed me all the way and it could have gone either way. There is something about competing on Scottish soil that brings out the best in an athlete. My throwing seems to be improving from Games to Games, and I'm setting several personal bests. I just love it here in Scotland. The crowds here are wonderful and the countryside is breathtaking.

Overall points, top three:
| | | |
| --- | --- | --- |
| 1. | Rusty Price | 35.0 |
| 2. | Mike Pockoski | 34.0 |
| 3. | Craig Sinclair | 27.0 |
###

The IronMind Forum: discuss this article, talk strength, get help with your training. http://www.ironmind-forum.com/

You can also follow IronMind on Twitter.