Rusty Price Wins the SGA World Highland Games Championships
Rusty Price kicked off his summer on the Scottish Highland Games circuit with a victory at the SGA World Championships in Balloch - Loch Lomond.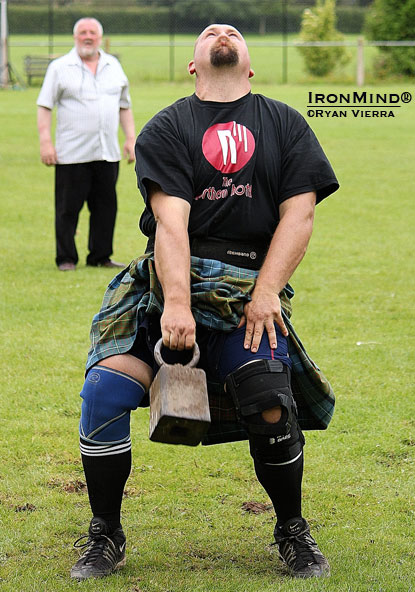 California's Rusty Price won the SGA Highland Games World Championships on the last event, the 56-lb. weight for height. IronMind® | Ryan Vierra photo.


2011 Balloch–Loch Lomond World Championships
By Francis Brebner

America's Rusty Price, from Snelling, California, who recently arrived in Scotland for a two-month tour of the Scottish Games circuit, started off on a high note winning the SGA World Highland Games Championships in Balloch, Loch Lomond in his first outing this past weekend. Price, who has had a great season thus far in the U.S., kept up his winning form in a tough group of competitors, including Scotland's Craig Sinclair and Gregor Edmunds; Poland's Sebastian Wenta, Lucas Wenta, and Dominik Zielinski; and USA's Ryan Vierra, Sam Grammer, and Mike Pockoski.

Asking Rusty how he felt about being a world champion, competing in Scotland for the first time, and his throwing overall, he said, "It is great to finally be here in [Scotland] where the Highland Games all started. As for winning the SGA World Championships, it has left me somewhat tired, but it has just not sunk in yet. I just can't believe it has all happened.

"As for my throwing, I just tried to keep a steady pace throughout the competition and make no mistakes, but I must admit in the first two events, the shot put, my favored event, I did start to lose confidence, placing third and fifth in the 22-lb. and 16-lb. shot. But I put that behind me and kept my cool and focused on what events there were left in the competition, and as I started to place third and fourth in most events, my confidence grew.

"It finally came down to the last event between Poland's Lucas Wenta and me, and at the height of 14' 6" I had two misses with only one attempt left. I told myself it's now or never and gave it everything I had and pulled out the win. I would like to say if it were not for my sponsor, Gary Cox of the Northern Hotel, I probably would not be having this interview with you just now and I thank him very much for helping me achieve one of my goals in this sport—and thanks also goes to my coach and mentor, Ryan Vierra.

"I now have a very full week of back-to-back Games, which will take me to next Saturday's big event, the British Highland Games Championships, held in the village of Lochernhead in the heart of Scotland. I just love this country and its great sport."

As the morning of events got underway with the 16-lb shot, the Poles were looking good in warm-ups, and when it came to the competition, they looked even better with a dominating series of world-class puts, placing one, two, three. It was a hard-fought event with Zielinski marginally winning at a sensational 58' over L. Wenta, who placed second with 57' 8-1/2", followed by brother S. Wenta in third at 55' 5".

The 22-lb. shot was another riveting competition, with the top three going toe-to-toe in each round, with the win again going to Zielinski with a put of 46' 6". Just inches behind in second was L. Wenta at 46' 3", and in third, Price made his presence felt with respectable 45' 4-1/2".

In the third event, the 28-lb. weight-for-distance, Sinclair rose to the occasion and caused a real upset as the only athlete to go over 80' with a terrific effort of 82' 3". Vierra was second at 77' 2", and Grammer third at 76' 3-1/2". The big surprise in this event was Edmunds not placing in the top three, a huge shock as his throw was nearly 20' less than his world-record throw of 95'10", which he established only one month ago at an SHGA Games in Markinch, Scotland.

In the 56-lb. weight-for-distance, it was all out war between the U.S. athletes, who totally dominated this event. Grammer surprisingly pulled off the win with a distance of 38' 8", followed in second place by Vierra with 38' 7" and in third place by Price with 36' 9-1/2".

Sinclair confirmed his position as Scotland's number one hammer thrower with the winning throw of 136'4" in the 16-lb. hammer. Second was Price at 133' 8", with Pockoski, the current IHGF world hammer throwing champion, in third with an under par throw of 128' 10".

In the 22-lb. hammer, Sinclair pulled off his third victory with a throw of 113' 4". Hot on his heels was Pockoski at 111' 2" for second place, with Price placing third with 106' 7".

In the caber toss, using a 19' long, 130-lb. caber, S. Wenta nailed the win with a toss of 12:04. Pockoski took second with a 2:00 toss, and Grammer landed third with a 9:00 toss.

The final event, the 56-lb. weight-over-bar, was the nail-biter between Price and L. Wenta. The men were very close on points, and it was now a case of who could keep himself together and make no mistakes. At 14' 6" Price looked as if his chances were slipping away with two misses, and L. Wenta had already cleared the height. The cool cat Price calmly walked to the bar and gave everything he had in one last effort and cleared the bar. The contest ended in a tie between Price, L. Wenta, and Grammer at a height of 16'. In all, what a win but for Price, what a finish!

Overall points:
| | | |
| --- | --- | --- |
| 1. | Rusty Price | 28.0 |
| 2. | Lucas Wenta | 25.0 |
| 3. | Craig Sinclair | 23.5 |
| 4. | Sam Grammar | 20.0 |
| 5. | Sebastian Wenta | 18.5 |
| 6. | Ryan Vierra | 17.0 |
| 7. | Mike Pockoski | 16.5 |
| 8. | Dominic Zielinski | 12.5 |
| 9. | Gregor Edmunds | 6.0 |
###

The IronMind Forum: discuss this article, talk strength, get help with your training.

You can also follow IronMind on Twitter.