Roy Rotzer Certifies on the No. 3 Captains of Crush® Gripper
He says that strength has deep roots in his family and Roy Rotzer proved he is part of that tradition as he officially closed the No. 3 Captains of Crush® Gripper today, and has now been certified on this world-class feat of grip strength - the first man to achieve this distinction in 2010.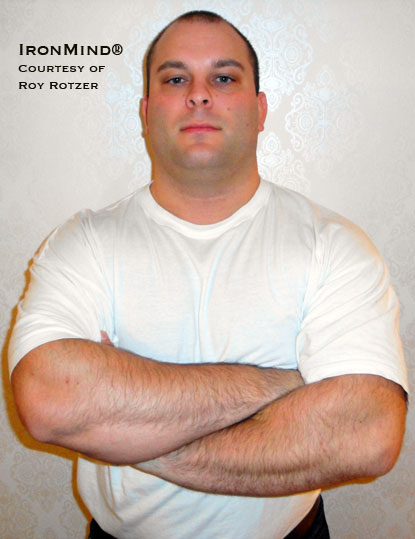 Roy Rotzer, a formidable Greco-Roman wrestler, has proven that he has world-class grip strength as he was just certified on the No. 3 Captains of Crush® Gripper. IronMind® | Photo courtesy of Roy Rotzer.

"Both my brothers and myself could close the number 2 CoC gripper without training," Roy Rotzer told IronMind®, giving an idea of how strong this family is. Although he was born (and lives in) Sweden, Roy said that he holds both a Swedish and a Swiss passport, and that he has been on both countries' national teams as a 120-kg category Greco-Roman wrestler.

Jonas Holmgren, who served as Roy's official referee reported, "Roy crushed that #3 without a problem from the credit card distance. All I can say is this is the strongest person I've had the pleasure of meeting. Inspiring to me and my own training, seeing what is possible with a lot of hard work."

Congratulations, Roy, your name has been added to the official certification list for the No. 3 Captains of Crush® Gripper, and special thanks to Jonas Holmgren for refereeing Roy Rotzer's official attempt.