Rolling Thunder at Pullum Sports
Next Tuesday at 1:00 there will be an open Rolling Thunder contest at Pullum Sports in Luton, England and the expectation is that Laine Snook will be taking a shot at breaking the world record.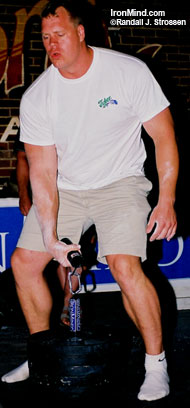 Phil Pfister, a World's Strongest Man favorite, is one of the best in the world on the Rolling Thunder®. Mr. Pfister was runner-up at the 2003 USA Rolling Thunder Nationals, put on by Jim Davis and IronMind®. IronMind® | Randall J. Strossen, Ph.D. photo.
About a week ago, under very strict conditions, Laine Snook exceeded the world record in the Rolling Thunder®, setting the stage for what is predicted to be a record-breaking performance at Pullum Sports next week. The Rolling Thunder® world record is highly coveted in part because of the history of who has lifted what, and because the lift and its records have never been allowed to get watered-down. Snook, along with such people as Magnus Samuelsson, Odd Haugen, and Chad Woodall have all exceeded the Rolling Thunder® world record unofficially, but to get the record it's like what another top performer, Wade Gillingham, said of winning the title: "If you want to be the Rolling Thunder National champion you have to show up at a contest and take the title. You can't win it in the gym" (MILO®, December 2003, Volume 11 - Number 3, page 118).

Despite the anticipation of a top performance by Laine Snook, this is an open contest and all are welcome. IronMind® is donating a gift certificate for two IMTUG®s to the winner and a gift certificate for one IMTUG® to the second-place finisher.

For more information on the Rolling Thunder®, please check IronMind's Rolling Thunder page.