Rolling Thunder®: Showing Up, Warming Up and Winning
Roll back the calendar to 2003 and the U.S.A. National Rolling Thunder Championships - Odd Haugen won the title, not surprising, but Karl and Wade Gillingham both missed the opening weight of 211 pounds, so they were out of the contest and that was a huge surprise.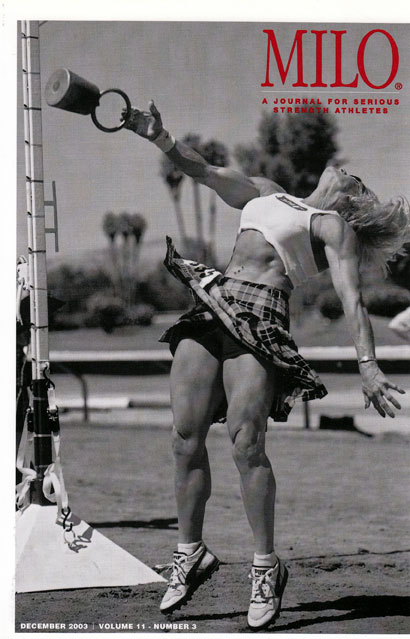 There are times, such as this world record weight for height throw by Shannon Hartnett, when you want the implement to fly out of your hand. There are also times, as in Rolling Thunder contests, when you don't. And as George Santayana observed, "Those who cannot remember the past are condemned to repeat it." IronMind® | Randall J. Strossen photo.


More than one of us thought of this contest when results from the recent European Rolling Thunder Championships hit the airwaves, and the idea that history repeats itself is no mere cliche.

Of course, when Mark Felix didn't coast to his expected victory in Finland, the conspiracy theorists hit their keyboards, pushing all kinds of reasons for the improbable outcome. The keyboards and phones at IronMind have not exactly been idle during this period either, as we have conducted transcontinental and transatlantic inquiries with questions, follow-up questions, and still more questions. After all this toil, we are happy to report that there really doesn't seem to be such a big mystery about what happened in Helsinki and vindicating the work of historians, the major lessons had already been recorded. As Yogi Berra would say, "It's deja vu all over again."
Here's the deal in Finland. Language differences did no favors in the communications process and especially when you are not the promoter, it is easy afterward to say how things might have been done better, but IronMind® believes that nothing improper happened. Mark Felix chose not to warm up, probably thinking that the 120 kg he picked for his opener would be such an easy lift, it would be a warm-up weight for him. He had also not reckoned with dialing in such details as the best amount of chalk to use, the impact of having multiple lifters going before him, and so forth. When Mark Felix bombed, the grip world reeled because this was like Mighty Casey striking out.

In actuality, there are many good lessons in this for everyone.

For starters, before anyone criticizes the person who organizes a contest, let him or her show the world their superior offering. Second, just as in weightlifting, the competitor's first job is to get on the board, then to win, and finally to set a record. Mark Felix probably could have gotten away with skipping the warm-ups, not worried about the chalk, and just taken a blink over the top weight, done a routine lift, and secured the win. For his next attempt, he could have nailed something more like the 120 kg, and for his final attempt, with two good lifts under his belt and 300 euros in his pocket, he just might have ripped up a world record lift.

Instead, adding the aggressive opener to no warm-up and too much chalk delivered the third strike and the mighty Mark Felix, instead of hitting a home run, was out.

Sound crazy? Then listen to this.

"Mark Felix was briefed of the rules by Kimmo Kokko and myself," contest organizer Sakari Selkäinaho told IronMind. "We did it very clearly by showing what will pass and what will not pass. Also, 10 minutes before the event I went and asked if he is going to warm up like competitors were doing, he said no. I guess that was his choice."

"Felix came [up to me] after the meet and asked for a chance to retry. We had 25 minutes before the bench meet and I said go ahead. He said he thought he had too much chalk on the handle on the competition. He did 118-123-128-132 solid and lifted up 134.5 kilos but on that he hold the handle not knuckles front but got the weight [Felix's hand had the knuckles turned toward the side on this last attempt]. Only WR 137 kilos stayed on floor. Very solid efforts and there is no doubt that Mark has a world-class grip. I did witness this and will give him credit for this," said Sakari.

"However," Sakari continued, "he was disqualified from competition by his own mistake of starting too high. He did not get his first attempt of 120 kilos off floor.

"I got big thanks from the event organizer K.P. Ourama. He already asked me to run the same meet next year. The Fitness Classic pulled less crowd than ever before, only half of the last year's. We had no problems running the meet and it had approximately 500 spectators, almost same as the big bench meet and fitness events," said Sakari.

"I talked to Mark Felix after the event and thanked him for his efforts," Sakari said. "Also, even with my limited English there is no reason for misunderstanding. In my opinion, Mark Felix is a class act and humble guy and will definitely perform a new record pretty soon in Rolling Thunder®."

And if you want to see how this is a case of history repeating itself, read Wade Gillingham's MILO® report on the 2003 USA Rolling Thunder National Championships: To win, first you have to show up and then you have to do all the little things right.