Rolling Thunder® Kicks Off Giants Live at the Mohegan Sun
Last year at the Mohegan Sun, the Rolling Thunder® competition set the stage for the strongman contest in a very big way: it was the first time in the history of this venerable event that everyone on the podium exceeded 250 pounds, and Mark Felix nuked the world record with a massive 301-pound pull.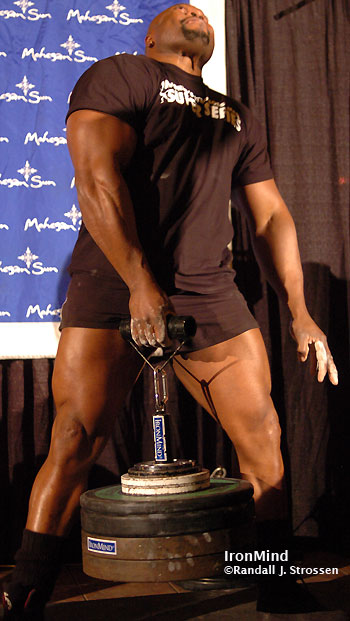 Mark Felix hauls up 301 pounds on the Rolling Thunder® at the Mohegan Sun in 2008. Could he go on to do even more on May 16? Be at the Mohegan Sun next weekend to find out. IronMind® | Randall J. Strossen photo.


Just confirmed, at 8 p.m. Saturday, May 16, the IronMind® Rolling Thunder® - Mohegan Sun Championships II will take place, pitting the stars of the Giants Live strongman contest against this world standard of grip strength in what will also be a meet-and-greet opportunity for all strongman fans.

And if you think you've got what it takes, walk-ons are welcome, although be prepared to prove that you can pull at least 100 kg on the Rolling Thunder® before you can join this world-class field.

Although IronMind® has not yet received confirmation of this, it is possible that the Giants Live - Mohegan Sun event T-shirts will be available for sale at the Rolling Thunder® contest, so besides cheering on your favorite, fans might able to buy a shirt and get it autographed on the spot.

The beauty of the Rolling Thunder® is that it's fun to try and if you're strong, it gives you a chance to prove it - it's been a world standard in the grip world for over 17 years, and other than Captains of Crush® Grippers, it is undoubtedly the feat of grip strength that draws more World's Strongest Man winners and competitors than any other. No other grip contest can begin to approach the caliber of the field drawn to top Rolling Thunder® events and the Mohegan Sun is part of this grand tradition.

IronMind® gift certificates will be awarded to the top three competitors: $200 for first place, $150 for second place and $100 for third place; plus if anyone breaks Mark Felix's world-record lift done at the Mohegan Sun last year (301 pounds), IronMind® will match the lift dollars for pounds with an IronMind® gift certificate: lift 308 pounds, for example, and you will win a $308 IronMind® gift certificate.

If you want to see what world-class grip strength is all about, think you can run with the big dogs yourself, or just want to get a jump on Sunday's Giants Live event with this chance to meet the strongman stars who will be competing the next day, plan to be at the Mohegan Sun on Saturday night.

Please visit the Giants Live website for full details on the Giants Live strongman competition, and for Giants Live - Mohegan Sun ticket information, please go to the Mohegan Sun ticketing website.

Admission to the Rolling Thunder® contest is free. Stay tuned for more details.