Rolling Thunder: Big Numbers in Russia
Strength sports are deeply rooted in Russia, so it's not surprising that as Russian participation in grip contests increases, Russia has produced some of the planet's top performances: it started with Captains of Crush grippers and now the Rolling Thunder® has been added to list of Russian successes in the world of grip strength.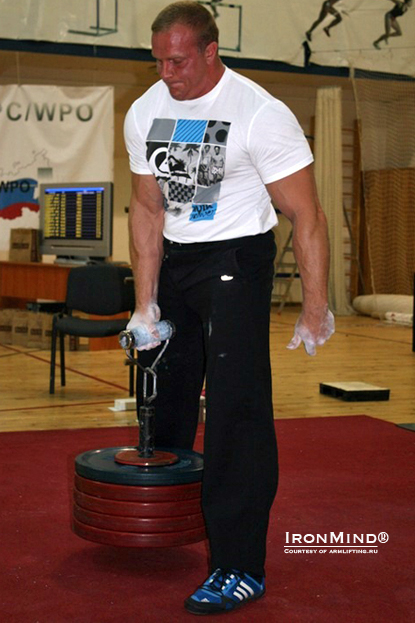 Sergey Daragan pulling 125 kg on the Rolling Thunder to establish the absolute Russian record on this universal test of grip strength. Daragan was the first Russian certified on the Captains of Crush® No. 3 and No. 3.5 gripper. IronMind® | Courtesy of Armlifting–Russia.


Organized under the Armsport umbrella and run under the name Armlifting, official Rolling Thunder contests are flourishing across Russia, as Alexey Tyukalov, representing Russia's Northwest Association for Armlifting, outlined for IronMind.

"The Rolling Thunder competitions has gained lot of popularity in Russia in past two years: the armlifting association was established (www.armlifting.ru) as president Nikolai Vitkevich as a part of Russian association of arm sports (www.armsport-rus.ru) as president Alexander 
Filimonov, the normatives have been fixed and different categories byweight and size were established for men and women. The best armlifters, powerlifters and strongmen are attending the competitions.



"There are big and small competitions regularly around Russia (Brjansk, Moscow, St. Petersburg, Vologda, Ekaterinbrg). Last autumn there was an international yearly festival 'Golden Tiger' with different types of sports. 8–11 March there will be the second open
 championship games of Russia," reported Tyukalov.

Already having putting up some of the highest numbers around, watch for more top results on the Rolling Thunder from Russia.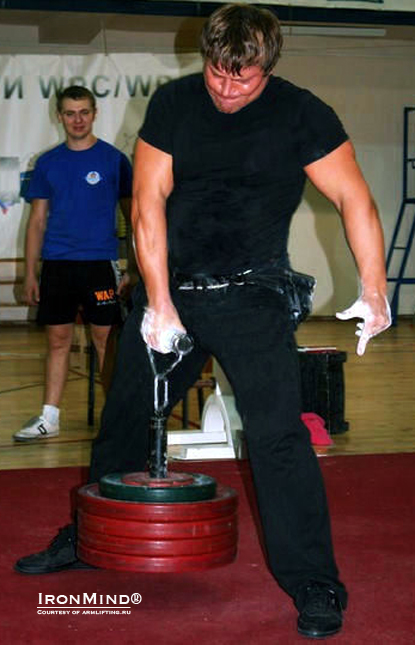 Alexey Tyukalov attacks 115.5 kg on the Rolling Thunder. IronMind® | Courtesy of Armlifting–Russia.

###



The IronMind Forum: discuss this article, talk strength, get help with your training.

You can also follow IronMind on Twitter.