Rock On: The December Issue of MILO is in the Air
The December 2011 issue of MILO: A Journal For Serious Strength Athletes is working its way to subscribers and it's also now in the IronMind e-store, available as either a single issue or as part of a subscription.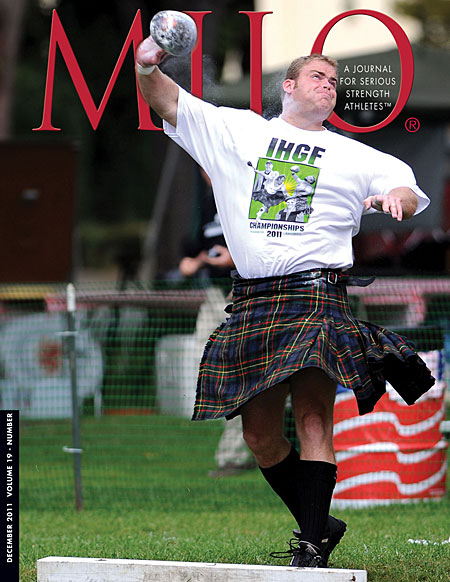 It's been a banner year for Dan McKim, who capped off the 2011 season with wins at two of the two most prestigious Highland Games: the U.S. National Championships and the IHGF World Championships. Here, Dan throws the open stone in Pleasanton, California, where he quietly bested the rest of the field by 15 points. Two weeks later he repeated at Loon Mountain, New Hampshire, adding "world champion" to his titles. IronMind® | Randall J. Strossen photo.


Training articles from the neck down, a stone lifting challenge, squatting and more: A MILO Roundtable Discussion of Deep Setting Grippers, and our regular columns such as From the Trenches, the Red Nail Roster, Captains of Crush Grippers: Who's New, From Our Archives.
MILO has some theory and a lot of practice, as we feature authors such as Jim Schmitz, Ken Leistner, Pavel, Roger Davis, Brian Jones, Jon Bruney, Dave Ostlund, Bill "Dr. Rock" Crawford, Steve Helmicki, Thom Van Vleck, Francis Brebner . . . along with the world's best strength sports photography.
To see the table of contents for the December 2011 (Volume 19–Number 3) issue of MILO, click here.

###

The IronMind Forum: discuss this article, talk strength, get help with your training.

You can also follow IronMind on Twitter.