Robert Miller Certifies on the IronMind Red Nail
"I saw you guys' website," Robert Miller told IronMind, "and figured bending would be an awesome workout."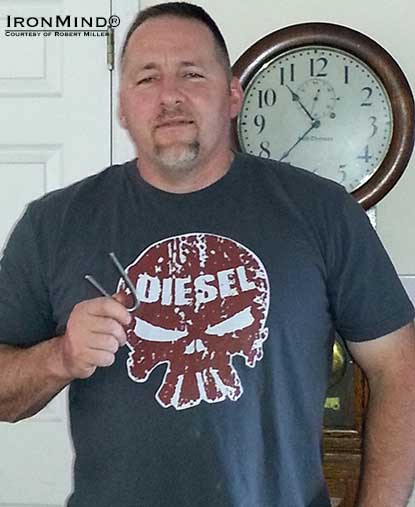 "I'm a married father with 6 children!," Robert Miller told IronMind. Remember that the next time you're wondering if you can't somehow manage to squeeze a little training into your day. IronMind® | Courtesy of Robert Miller.


Fast forward five or six months and 46-year old, 6' 1", 250-lb. Robert has officially bent the IronMind Red Nail, a benchmark short steel bend. Talk about a being on the fast track.

"I usually bend 3-days a week and do one max bend workout a week followed by one kink workout and one volume workout.," Robert said.

"I armwrestled for 3-years competitively and have since starting training for grip. I do industrial maintenance work so my hands and wrists get a good workout every day at work. I firmly believe that maintenance work and manual labor played a significant role in my hand and wrist strength.

My goal is to certify on the Red Nail and then bend progressively harder steel or horseshoes. I have a background in CrossFit, powerlifting and armwrestling and recently sent my sights on grip and bending and and intend on closing the Captains of Crush No. 3 gripper and bending the infamous Gold Nail one day! Other than bending I love sledgehammer leveraging and have a couple of official lifts with them on the Gripboard along with a 2 45-lb. plate pinch!

"Thanks to my ref Scott George . . . my NC teammates James Retarides, Bob Sundin, Jason Otto, and Erick Zap for there support. Thanks to Mike Sharkey and John Eaton for their help as well, and a special thanks to Nathaniel Brous—the man's been like a brother to me and assisted me every step of the way in my Red Nail journey. Thanks all and thanks to IronMind for all their top notch, world-class strength products . . the best in the world!"

IronMind would like to second those thanks for Scott George for referreeing Robert's official attempt to bend an IronMind Red Nail; and to Robert Miller, we'd say, "Nice going—20 years of hard work laid a base that allowed you to walk through the Red Nail in almost no time, so as far as other accomplishments in the grip strength and bending world, we're sure you'll be back for more. Meanwhile, welcome to the Red Nail Roster, Robert!

#

Want to talk strength? Join the IronMind Forum.

You can also follow IronMind on Twitter and on Facebook.