Robert Fazekas Wins IHGF World Amateur Highland Games Championships
Robert Fazekas took home the 2013 IHGF World Amateur Highland Games Championships this weekend—IronMind has a contest report from Francis Brebner.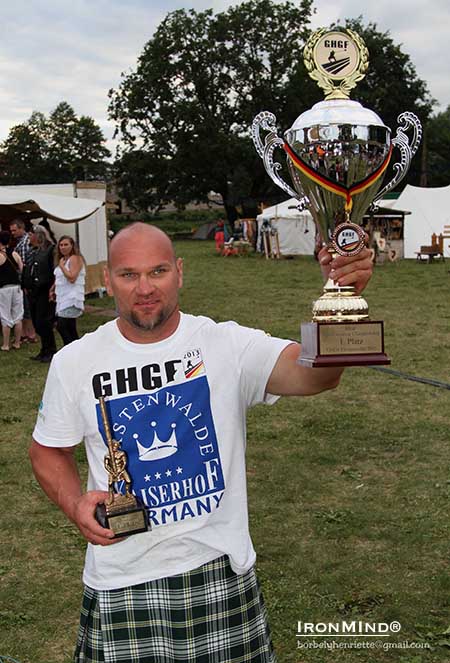 Robert Fazekas is the 2013 IHGF World Amateur Highland Games champion. IronMind® | Photo courtesy of bobelyhenriette@gmail.com.


2013 IHGF World Amateur Highland Games Championships
by Francis Brebner

The IHGF World Amateur Highland Games Championships, held this weekend in Furstenwalde, Germany, was a big success. Crowds turned out to watch 14 athletes from 11 different countries vie for the IHGF World Amateur title. These included: Moe Westmoreland, Australia; Jimmy Van De Walle, Belgium; Peter Karst Bouma, Holland; Kyle Randalls, Scotland; Chad Ullom, USA; Amine Amroun, France; Franz Ritter, Switzerland; Martin Schiller, Austria; Marian Katrusa, Croatia; Attila Szabo, Hungary; Robert Fazekas, Hungary; Daniel Dorow, Germany; Markus Vortriede, Germany; and David Frey, Germany.

The first event, the 16-lb. open stone, was won by Van De Walle with a putt of 49' 1/4", followed by Dorow at 45' 11" and Schiller at 45' 8".

In the 28-lb. weight for distance, Fazekas dominated with a world class throw of 85' 5" for the win, setting a new Hungarian national record. Second was Van De Walle at 78' 2" and third, Frey at 72' 2".

The 16-lb. hammer was a great event to watch as Randalls showed great form, winning with a distance of 135'. Fazekas had a very good throw of 127' 7" for second—and with no hammer boots; third was Dorow with 120' 4".

The 22-lb. Braemar stone put was a very close competition between Szabo and Van De Walle, with Szabo clinching the win in the final round with a putt of 38' 6". Van De Walle took second at 37' 9" and Schiller came in third at 35' 4".

Halfway through the competition Van De Walle and Fazekas were tied at 46 points, with third place Dorow at 43.5 and fourth place Szabo at 43.

In the 56-lb. weight for distance, Bouma snatched the win in the last round with a throw of 36' 3-1/4" to go ahead of Fazekas at 35' 10"; Frey was third at 33' 10".

The 22-lb. hammer was a notch win for Randalls at 101' 3". Only inches separated Fazekas and Van De Walle for second, with Fazekas going ahead with a throw of 94' 6-1/4" to Van De Walle's 94' 4".

With only two events left, the athletes went into overdrive. A lot of pressure was staring to bubble and Fazekas nearly exited the weight-over-bar at 14' with two misses, but he cleared it on his last attempt to stay in the competition. The event was finally won by Fazekas at a height of 15' 3", with Bouma placing second at 14' 9"; third place was a tie between Szabo and Vortriede at 14' 3".

The caber for the final event was 132-lb. and 18' long, and Bouma tossed it for the win with a perfect 12:00 effort; second was Van De Walle at 12:01 and third, Ullom at 12:02.

Overall placings:

1. Robert Fazekas 96
2. Jimmy Van De Walle 91.5
3. Peter Karst Bouma 85
4. Attila Szabo 76.5
5. Daniel Dorow 76
6. Markus Vortriede 74
7. David Frey 71
8. Kyle Randalls 64.5
9. Martin Schiller 62
10. Chad Ullom 48.5
11. Moe Westmoreland 42.5
12. Franz Ritter 18
13. Amine Amroun 17.5
14. Marian Katrusa 17.5

The IHGF would like to thank Hans Dieter Dorow, president of the GHGF, along with Daniel Dorow, for their exceptional work in putting on a great show, which ran like clockwork, and for looking after the athletes in a first-class way. The setting for the games was fantastic, giving an authentic feel and a magical atmosphere to the Highland Games. The championships were filmed for European TV and will be aired later in the year.

###

The IronMind Forum: discuss this article, talk strength, get help with your training.

You can also follow IronMind on Twitter and on Facebook.