Rick Giese Certifies on the IronMind Red Nail
Rick Giese started bending in 2008 and when a couple of injuries along the way put his bending on hold, he never quit—patience and persistence paid off big time because Rick has just been certified on the IronMind Red Nail, a world standard for short steel bending.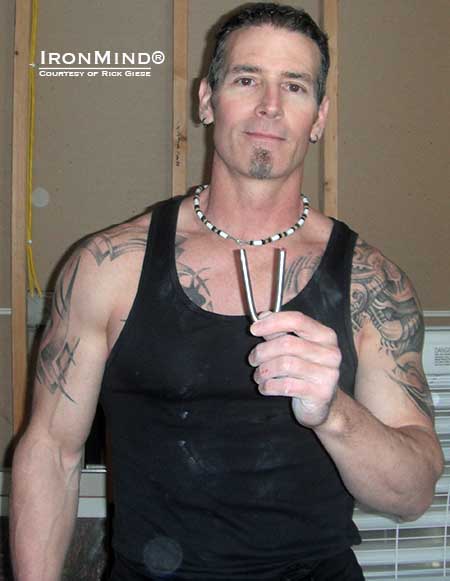 45-year old Rick Giese has just been certified on the IronMind Red Nail, showing his mastery of the benchmark steel bend. IronMind® | Photo courtesy of Rick Giese


"I received my IronMind Bag of Nails back in December 2008 and could only bend the Green nail at that time, having no training in bending at all. A few months later I managed to bend the Yellow nail. After this I bought some other steel to bend and bent a lot of nails reverse style, being that was the only style I could do," Rick told IronMind.

"Fast forward a few years to 2011 when I contacted Jedd Johnson of the Diesel Crew and lined up some training. I started to really get a grasp of the Double Overhand bending technique and began to bend some tougher stock.

"After a short time training with Jedd I was able to bend the Red Nail in leather wraps and a short time after that in IronMind pads. In October 2012 I bent the Red Nail in IronMind pads only (official rules style) and shortly after that I injured my right forearm after tearing a Denver phone book. This put me out of commission for a few months as I could not bend anything at this point. A few months later I was back to bending Reds again but it was never consistent enough to warrant contacting IronMind to schedule an official attempt. I put off bending for a while due to frustration and chasing some other goals.

"In March 2013 I picked up bending again and after a few sessions I picked up a Red Nail, wrapped in IronMind pads and to my surprise I bent it. I was on track again, so I thought anyway until May 2013 when I experienced a debilitating nerve disorder to my right arm from the shoulder clear down to the hand. Again, no bending whatsoever for several months.

"In November of 2014 I started to bend again and became consistent with it only missing a bend once or twice between then and now. I began bending every 4 days or so and thought 'I am 45 years old, if I don't do this now, I won't do it.'

"I contacted IronMind and set up my official attempt. They put me in touch with my referee, Mr. Randy Lane and we scheduled my attempt. Randy showed up with the 3 Red nails and after a brief warm up he handed me the nail and I bent it. It seemed a little easier than I had even hoped due to the fact that I was so nervous and full of adrenaline.

"This has been a goal and desire of mine for some time to finally make it onto a list of very strong men from around the world to have bent this 'Red Dragon.' Thank you IronMind for giving me the chance to prove to the world and myself that I was good enough."

You are very welcome, Randy, and congratulations because your name has been added to the Red Nail Roster, the list of men who have been certified as bending the IronMind Red nail under official conditions—your example of sticking with it should inspire others, as well. Many thanks to Randy Lane—we appreciate your serving as the referee on Rick's official attempt to bend an IronMind Red Nail.

###



Want to talk strength? Join the IronMind Forum.

You can also follow IronMind on Twitter and on Facebook.