Rezazadeh Responds to Rumors
Responding to rumors that are being spread around the Internet that associated Hossein Rezazadeh with drug use, the two-time Olympic gold medalist told IronMind® that envy, which inspires such false reports, is universal.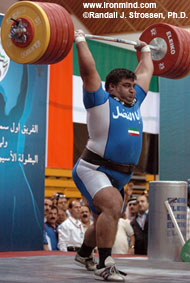 Two-time Olympic gold medalist Hossein Rezazadeh punches up a 260-kg clean and jerk at the 2005 Asian Weightlifting Championships (Dubai, United Arab Emirates). IronMind® | Randall J. Strossen, Ph.D. photo.
"In Iran, there are rumors about everyone. It is the same all over the world," Rezazadeh told IronMind®, explaining that once you are famous or have achieved a measure of success, other people sometimes become envious and attack you in various ways.

As an example of how extreme things can become for the Iranian superstar, he told IronMind® that last year, a man who somewhat resembled him posed as his brother, and solicited money. That man, Rezazadeh told IronMind®, is now in jail.

The irony of this particular rumor is that not only is Rezazadeh a two-time Olympic champion, which puts him squarely in the world's most stringent and highly respected doping control procedures, but he is also known in Iran for his strong stance advising young people to lead clean lives - he is even featured in a widely-distributed anti-cigarette smoking poster.

Hossein Rezazadeh is something of a national treasure in Iran; and in the world of weightlifting, he has been head and shoulders above all other competitors in recent years - he currently holds all three world records in the super heavyweight class.